Stuffed Rigatoni Poppers
These stuffed rigatoni poppers are going to be your new favorite appetizer!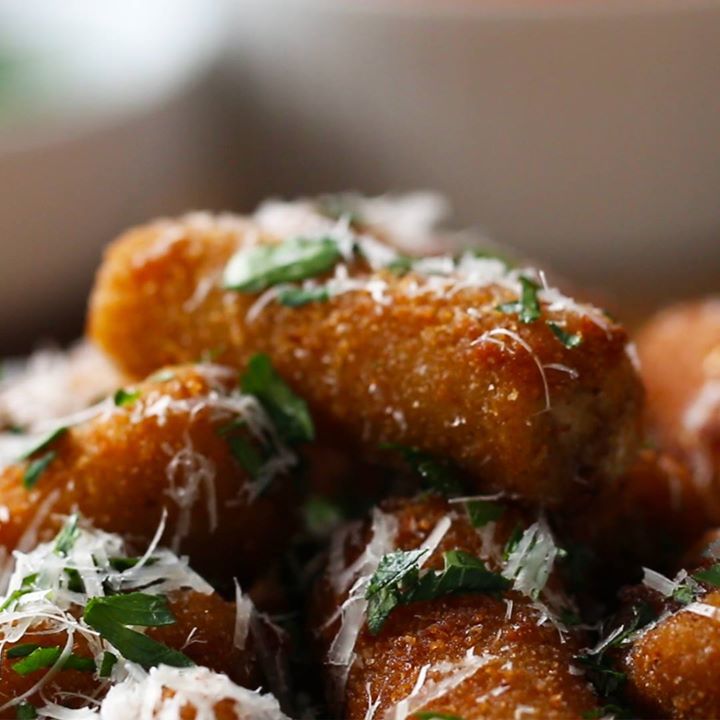 Ingredients
2 teaspoons salt, divided
16 oz (455 g) rigatoni, 1 box
1 tablespoon olive oil
1 lb (455 g) ground beef
½ teaspoon pepper
1 teaspoon dried oregano
1 teaspoon dried parsley
½ medium yellow onion, diced
2 cloves garlic, minced
1 cup (100 g) shredded mozzarella cheese
oil, for frying
1 cup (125 g) all-purpose flour
2 large eggs, beaten
1 cup (115 g) bread crumbs
fresh parsley, for serving
shredded parmesan cheese, for serving
marinara sauce, warm for serving
Instructions
Bring a large pot of water to boil over high heat, season with a teaspoon of salt, then add the rigatoni.
Stir and cook until the pasta is al dente, about 5 minutes.
Drain the pasta and transfer to a large bowl. Add the olive oil and stir to coat. Set aside to cool.
In a large bowl, add the ground beef, remaining teaspoon of salt, the pepper, oregano, parsley, onion, garlic, and mozzarella. Stir until combined.
Spoon the beef mixture into a zip top bag, seal the bag, and cut the corner to create a small opening.
Pipe the beef mixture into one side of the rigatoni, then flip and pipe the other side to fill.
Place the filled rigatoni on a baking sheet and freeze for 30 minutes.
Heat the oil in a large pot until it reaches 350°F (180°C).
Place the flour, eggs, and bread crumbs into 3 separate medium bowls.
Take a rigatoni and roll it in the flour to coat, shake off any excess flour. Dip the rigatoni in the egg with a fork. Finally, roll the rigatoni in the bread crumbs until coated. Repeat with the remaining rigatoni.
Fry the rigatoni poppers 4 at a time until golden brown, about 4 minutes.
Drain on a wire rack or over paper towels.
Sprinkle with fresh parsley and Parmesan.
Serve with marinara sauce.
Enjoy!
Watch the recipe video here:
These stuffed rigatoni poppers are going to be your new favorite appetizer ?!FULL RECIPE: https://tasty.co/recipe/stuffed-rigatoni-poppers

Posted by Tasty on Monday, April 2, 2018