Honey Mustard Glazed Ham
Honey Mustard Glazed Ham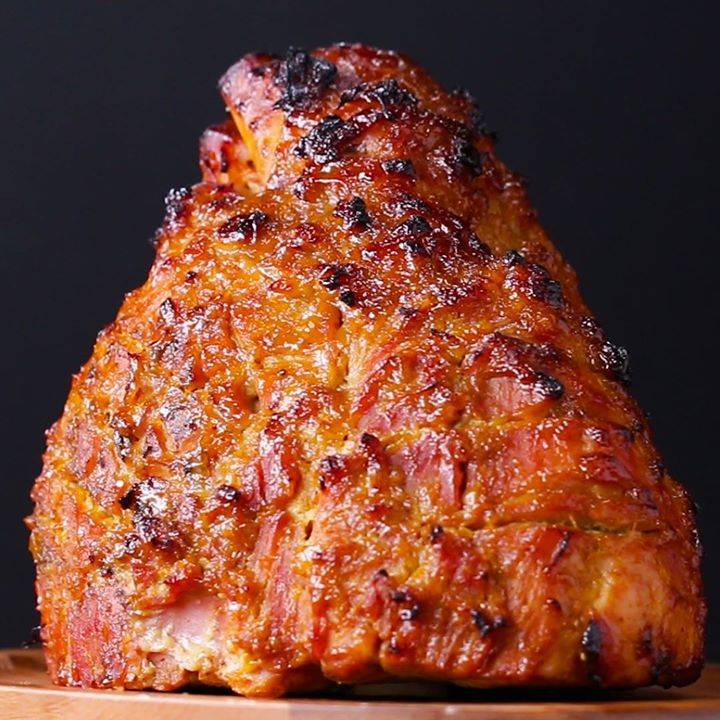 Ingredients
onion, chopped
10 cloves garlic, peeled
¼ cup apple cider vinegar
¼ cup stone ground mustard
1 cup orange juice
10 whole cloves
10 lb picnic ham, cured
½ cup honey
½ cup dijon mustard
1 tablespoon worcestershire sauce
1 cup brown sugar
Instructions
Preheat oven to 400°F (200°C).
Add the chopped onion, garlic cloves, apple cider vinegar, mustard, orange juice, and cloves to a large roasting pan, stirring to combine.
Place the ham on the roasting rack over the liquid.
Trim off tough outer skin, then score the remaining fat in a crosshatch pattern. Cover the entire roasting rack with aluminum foil and bake for 1 hour.
Remove the ham from the oven, and remove the foil. Baste the ham with the liquid, then remove the rack from the roasting pan and set aside.
Remove all the whole cloves from the remaining liquid in the pan. Pour the remaining liquid into a pot, along with the honey, Dijon mustard, Worcestershire sauce, and brown sugar. Whisk to combine.
Bring the mixture to a boil over medium high heat, then simmer until thick and reduced, about 10 minutes.
Brush the glaze on to the ham then transfer back to the roasting rack.
Bake the ham for 30-45 minutes, or until the glaze is caramelized and the ham reaches 145°F (65°C).
Slice the ham, and serve.
Enjoy!
Watch the recipe video here:
This honey mustard-glazed ham will be a holiday show-stopper! ? ?FULL RECIPE: https://tasty.co/recipe/honey-mustard-glazed-ham

Posted by Proper Tasty on Friday, December 15, 2017