Caprese Chicken Rollups
It's going up on a Tuesday.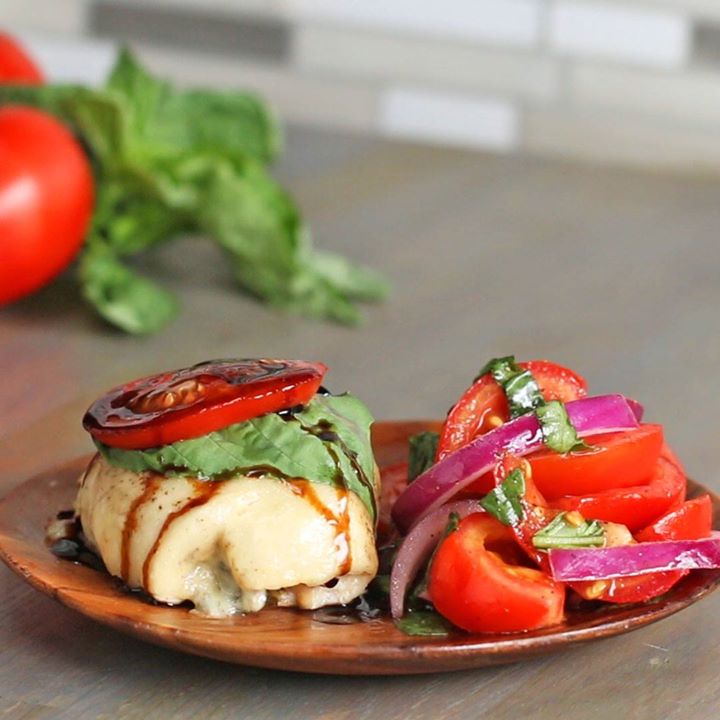 Ingredients
2 boneless, skinless chicken breasts
Olive oil
Salt, to taste
Pepper, to taste
1 8-ounce package mozzarella cheese
1 cup tomatoes, diced
1 tomato, sliced
Balsamic Reduction
1 cup balsamic vinegar
¼ cup honey
Instructions
Preheat oven to 400˚F (200˚C).
In a saucepan, heat balsamic vinegar and honey over high heat. Stir until sauce reduces to ⅓ cup. Set aside.
On a cutting board, slice the chicken breasts in half horizontally.
Cover chicken with a piece of plastic wrap. Using the rough side of a metal mallet, pound the chicken until ½-inch thick. Repeat with remaining breasts.
Drizzle olive oil over pieces of chicken and season with salt and pepper.
Place 2 slices of mozzarella on each piece of chicken. Spoon ¼ cup of diced tomatoes on each piece of chicken. Place 3 pieces of basil on each piece of chicken.
Roll up the chicken, making sure the ingredients are tucked under the breast and not pushed out the sides.
Place the roll-ups in a greased baking dish. Drizzle each roll-up with more olive oil and sprinkle with salt and pepper.
Bake for 15 to 20 minutes, until internal temperature reaches 160˚F (71˚C).
Place one slice of mozzarella on each roll-up. Broil for 5 to 10 minutes until the mozzarella has melted over the chicken.
Let chicken rest for 10 minutes. Place a basil leaf and slice of tomato on each piece of chicken. Drizzle with balsamic reduction. Enjoy!
Watch the recipe video here:
These caprese chicken roll-ups are the dinner plans you've been looking for ?!FULL RECIPE: http://bzfd.it/2eSgpocFIND IT IN THE APP: http://tstyapp.com/m/ObDUs79McG

Posted by Tasty on Tuesday, September 12, 2017