Crepe Parcel Bake
Holy savory crepe! Spinach, chicken, cheese and baked sound like a fab meal!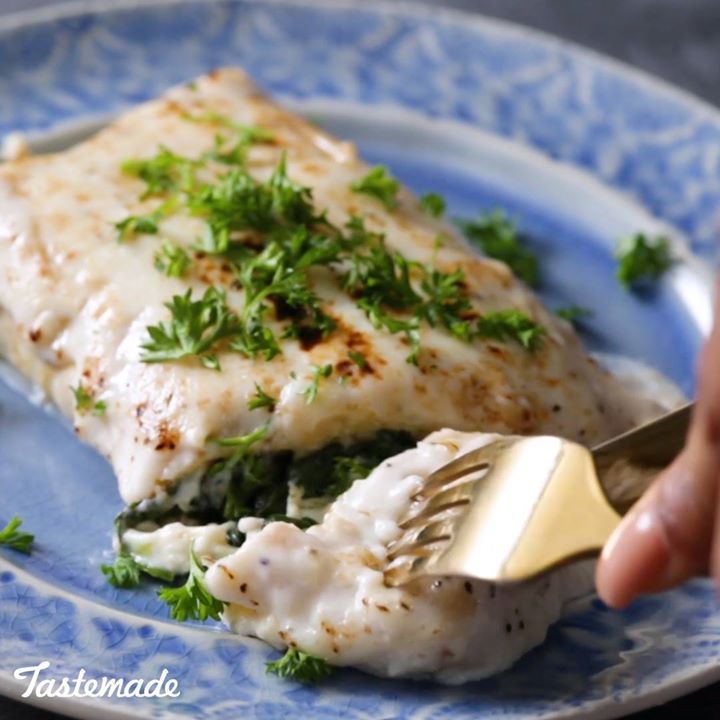 Ingredients
Crepe:
½ cup milk
½ cup water
1 cup all-purpose flour
2 eggs
¼ teaspoon salt
2 tablespoons butter, melted
Bechamel sauce:
2 tablespoons butter
2 tablespoons flour
1¼ cups milk, warm
Salt
Freshly ground pepper
⅛ teaspoon nutmeg
Filling:
1 tablespoon olive oil
3 cloves garlic, minced
3 cups fresh spinach
2 cups chicken breast, cooked and shredded
1 cup mozzarella cheese, shredded
Juice of a lemon
Salt and pepper
Instructions
Preheat oven to 375 degrees.
For the crepe: In a blender, add milk, water, flour, eggs, salt and melted butter. Blend until smooth. Refrigerate for at least 30 minutes.
Lightly oil a frying pan with melted butter. Place over medium-high heat. Pour in ¼ cup batter, and tilt the pan with a circular motion until the batter coats the surface evenly. Cook the crepe for about 2 minutes, until it bubbles up and loosens from the pan. Flip and cook for 2 more minutes on the other side.
For the bechamel sauce: In a heavy-bottomed saucepan, melt butter. Stir in the flour and cook, stirring constantly, until it cooks out, about 2 minutes. Add the warm milk, salt, pepper and nutmeg, continuing to stir as the sauce thickens. Bring to a boil, then remove from heat.
For the filling: In a heavy-bottomed pan on medium-high heat, add 1 tablespoon of olive oil. Add garlic and cook until aromatic, about 2 minutes. Add spinach, chicken and mozzarella and cook for 4 minutes. Add lemon juice and season with salt and pepper.
To assemble: Place crepe on a baking sheet or cast-iron pan, place 2 tablespoons of filling in the center and fold up. Repeat with remaining crepes. Pour sauce over the crepes, and broil for 5 to 8 minutes until golden brown.
Watch the recipe video here:
Wanna see a magic trick? We'll make this creamy crepe dish disappear.Taste for Yourself: taste.md/2qsLVPU

Posted by Tastemade on Sunday, April 15, 2018