Queso Hash Brown Breakfast Ring
Queso Hash Brown Breakfast Ring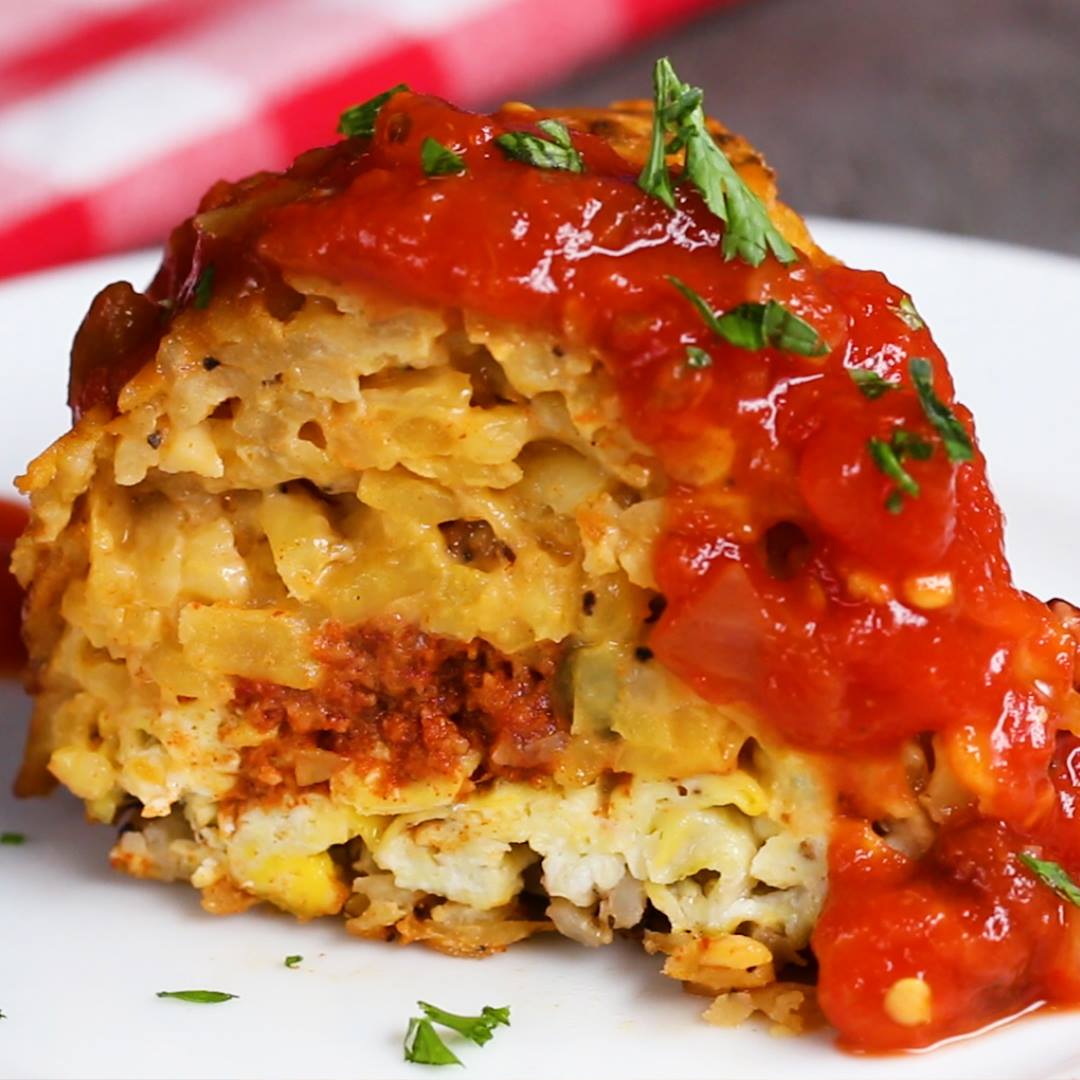 Ingredients
30 oz frozen hash brown (850 g)
3 large eggs, lightly beaten
6 large eggs, soft-scrambled
1 teaspoon onion powder
1 tablespoon black pepper
1 teaspoon paprika
1 teaspoon garlic powder
1 tablespoon salt
nonstick cooking spray, for greasing
15 oz queso dip, 1 jar (425 g)
11 oz pork chorizo (310 g)
salsa, for serving
fresh cilantro, chopped, for serving
Instructions
Preheat the oven to 425°F (220°C).
In a large bowl, combine the hash browns, lightly beaten eggs, onion powder, pepper, paprika, garlic powder, and salt. Mix well.
Grease a nonstick bundt pan with cooking spray.
Add ⅔ of the hash brown mixture to the bundt pan and press evenly against the bottom and sides of the pan.
Carefully pour the queso over the hash browns and spread evenly. Add the chorizo on top of the queso and spread out, then top with the soft-scrambled eggs. Add the remaining hash browns and spread evenly to cover the fillings.
Place the bundt pan on a baking sheet and bake for 1 hour.
Remove the bundt pan from the oven. Let sit for 10 minutes, then carefully invert onto a serving plate.
Slice into wedges and serve.
Enjoy!
Watch the recipe video here:
Queso Hash Brown Breakfast Ring

A lot's happening here, but it's all worth it. ?Full Recipe: https://tasty.co/recipe/queso-hash-brown-breakfast-ring

Posted by Tasty on Thursday, October 4, 2018