Family Arepas As Made By Cesar
Family Arepas As Made By Cesar recipe.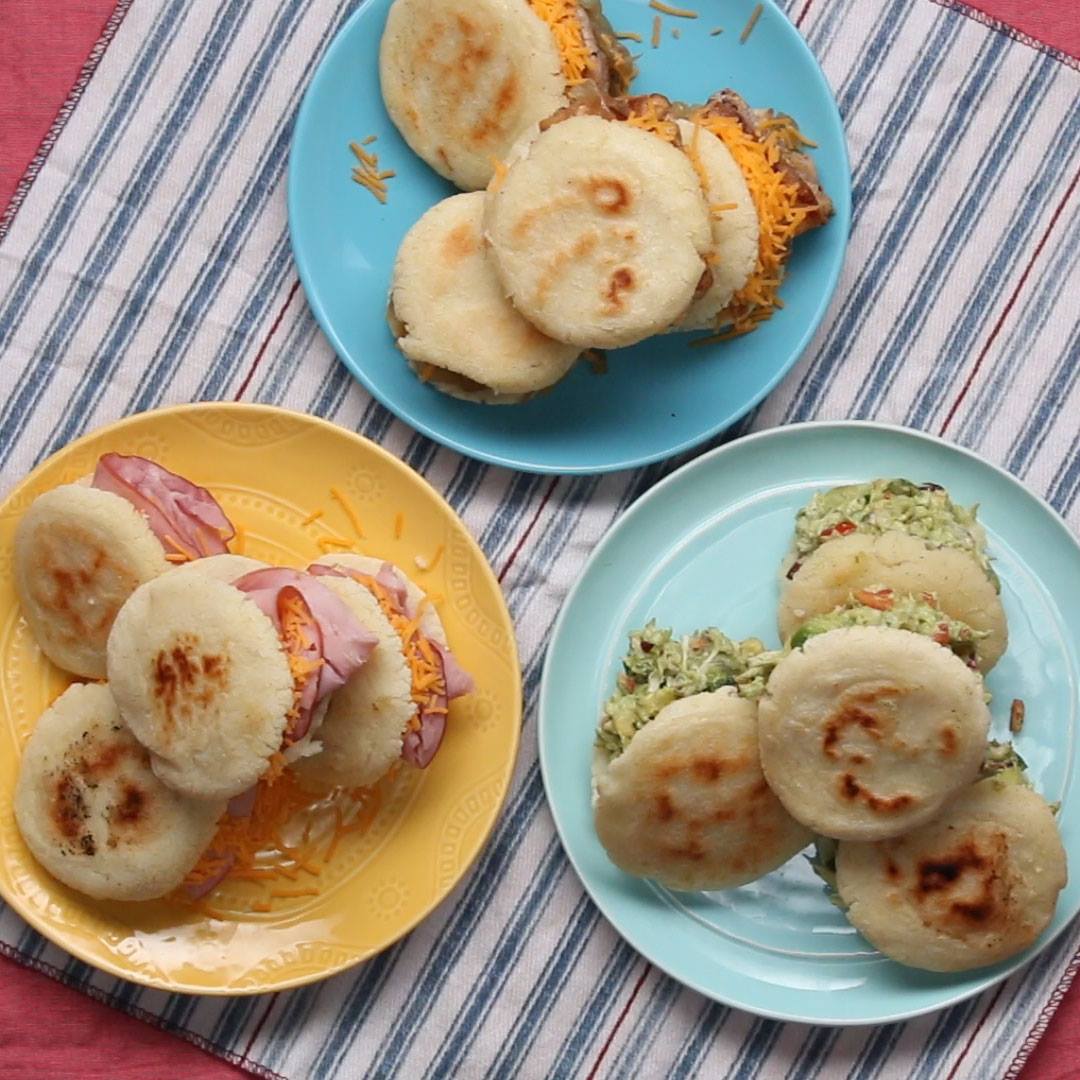 Ingredients
AREPAS
3 cups warm water (720 mL)
1 teaspoon salt (5 g)
2 cups arepa flour (230 g)
1 tablespoon canola oil
FILLINGS
CHICKEN AVOCADO SALAD
1 lb rotisserie chicken, shredded (455 g)
2 avocados
lime, juiced
¼ cup red onion, chopped (40 g)
¼ cup red bell pepper, chopped (45 g)
1 clove garlic
2 tablespoons mayonnaise
3 tablespoons fresh cilantro, chopped
salt, to taste
pepper, to taste
HAM AND CHEESE
ham, sliced
shredded cheddar cheese
CHICKEN AND CHEESE
chicken breast, or thighs, cooked
onion, caramelized
shredded cheddar cheese
Instructions
Preheat the oven to 375˚F (190˚C)
In a large bowl, combine the warm water and salt. Stir until the salt is dissolved.
Slowly add the arepa flour while stirring. Adjust the consistency as needed by adding more water or flour. The dough is ready when it pulls away from the sides of the bowl and doesn't stick to your fingers.
Grab a fist-sized ball of the dough and pass it from one hand to the other to pat into an even, flattened round. Pay attention to the edges so as to not leave cracks.
Heat the oil in a large cast-iron skillet over medium-high heat. Cook the arepas, flipping once, until golden brown in color, 5-7 minutes on each side
Transfer the arepas to the oven and cook for 15 minutes.
Make the chicken avocado salad: In a medium bowl, combine the shredded rotisserie chicken, avocados, lime juice, onion, bell pepper, garlic, mayonnaise, cilantro, salt, and pepper. Mix well to combine.
Cut the arepas in half and stuff with the chicken avocado salad or your favorite fillings.
Enjoy!
Watch the recipe video here: