Giant Cheese Stuffed Burger Wellington
Heavens. What is this perfect circle of meaty joy? This vast, happy bundle of fun? It's a cheeseburger wellington! Dripping with cheese and wrapped with buttery pastry, it's basically the most economical, delicious way of serving a crowd since Jesus fed the 5,000.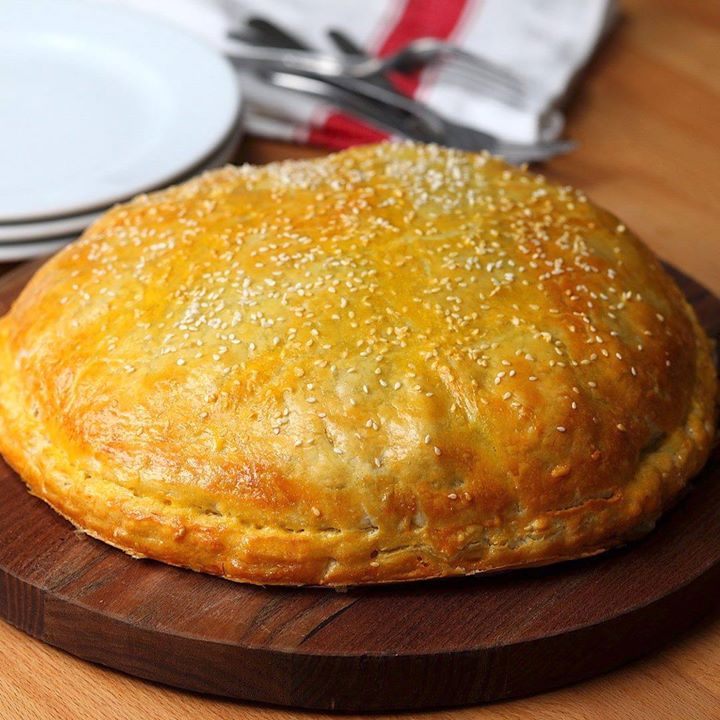 Ingredients
4lb beef mince
1 tbsp salt
1 tbsp pepper
1 tsp garlic powder
2 cups grated mixed cheese
1 tbsp oil
2.2 lb puff pastry
3 egg yolks, beaten
2 tbsp sesame seeds
Instructions
Preheat the oven to 180°C/360°F.
Mix the beef mince together with the salt, pepper and garlic powder. Split in two and press each half into a springform cake tin on a sheet of baking paper. Sprinkle one half with cheese and lay the other on top, then press together around the edges to seal.
Heat the oil in a large frying pan then fry the massive burger on both sides (you can flip it by placing a plate on top and spinning the pan upside-down).
Cut the pastry into two circles, each larger than the burger. Lay the burger on one and paint the visible edge of pastry with egg yolk, then lay the other pastry circle on top and press together to seal and crimp around the edges.
Brush the whole thing with more egg yolk and sprinkle with sesame seeds.
Bake for 40 - 50 minutes until a temperature probe says the beef is cooked through.
Watch the recipe video here:
Cheese Stuffed Burger Wellington

Posted by Twisted on Tuesday, January 16, 2018