Easy Chicken Parm Bake
Your kids are going to love this parm bake you can make in no time with Tyson Crispy Chicken Strips! Pick them up at Walmart today!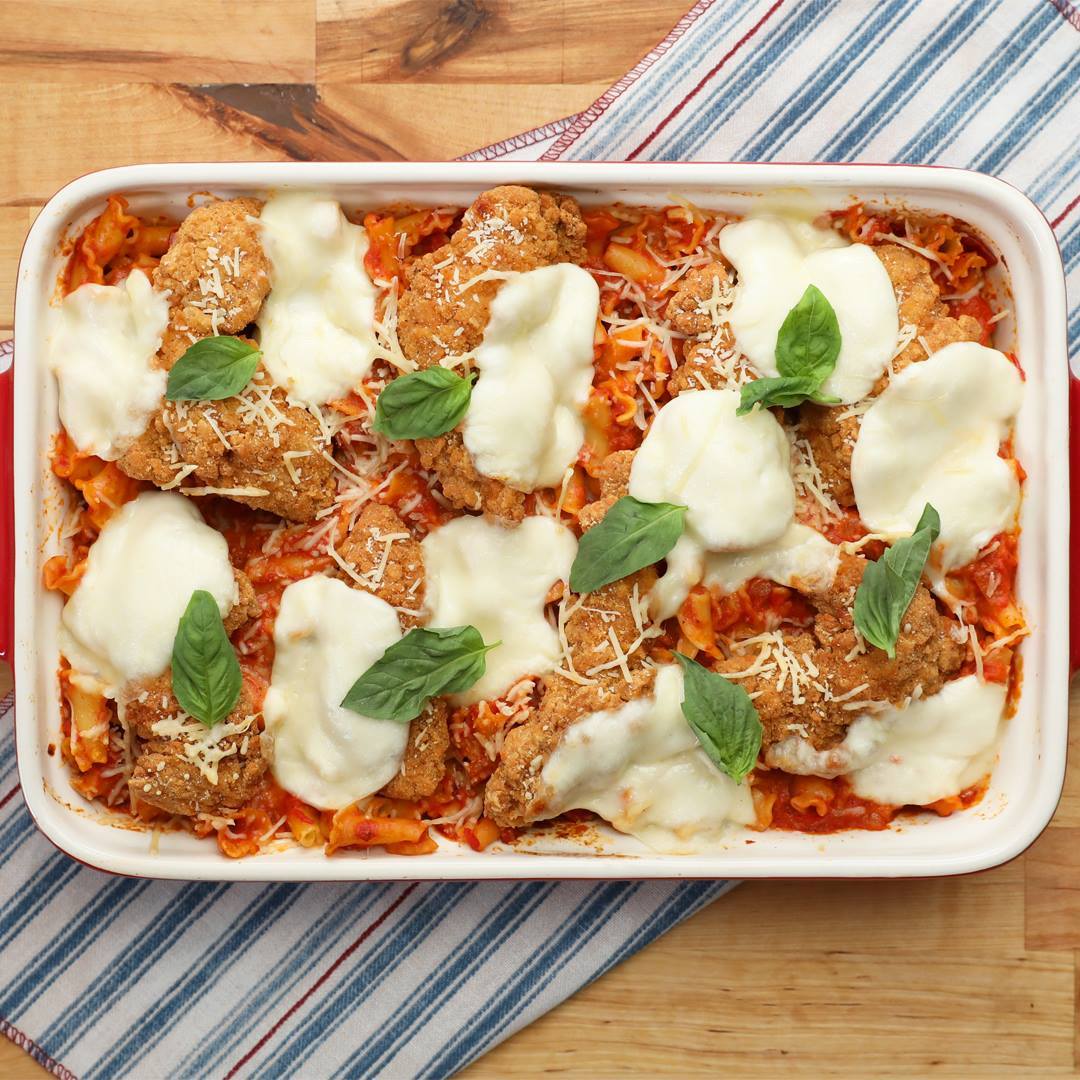 Ingredients
Tomato Sauce
4 tablespoons olive oil
1 onion, chopped
3 cloves garlic, minced
2 teaspoons dried oregano
1 teaspoon onion powder
1 teaspoon garlic powder
2 (28-ounce) cans crushed tomatoes
2 large sprigs fresh basil
Salt, to taste
½ teaspoon ground black pepper, to taste
¾ cup heavy cream
Assembly
8 Tyson Crispy Chicken Strips
1 (1 pound) box cavatappi, penne, or other short pasta
8 mozzarella slices
½ cup shredded parmesan cheese
8 basil leaves, minced, for garnish
Instructions
Preheat oven to 400ºF/205℃.
Arrange Tyson Crispy Chicken Strips on a parchment-lined baking sheet. Bake
according to package instructions. Remove from oven and lower temperature to 375ºF.
Heat olive oil in a large saucepan. Add onion and saute until translucent, about 5
minutes.
Add minced garlic and saute for another minute or two. Stir in dried oregano, onion
powder, garlic powder, and a large pinch of salt and pepper.
Add crushed tomatoes, basil, and another big pinch of salt. Let simmer, stirring
occasionally for 20 minutes.
Remove basil sprigs and fold in the heavy cream. Taste sauce and add more salt and
pepper if necessary.
Heat a large pot of heavily salted water. Bring to a boil and cook pasta for 3 minutes less
than the cooking time on the package. Drain pasta and pour into a 9x13-inch glass
baking dish.
Pour the creamy tomato sauce onto the pasta and mix thoroughly. Arrange the Tyson
Crispy Chicken Strips on top of the pasta. Place the sliced mozzarella on the chicken
strips and sprinkle with the shredded parmesan.
Place in the oven and bake for 12–15 minutes until cheese is melted. Remove from oven
and sprinkle with minced basil leaves.
Watch the recipe video here:
Easy Chicken Parm BakeYour kids are going to love this parm bake you can make in no time with Tyson Crispy Chicken Strips! Pick them up at Walmart today! [www.walmart.com]

Posted by Tasty on Thursday, May 31, 2018