Philly French Dip Sliders
PHILLY FRENCH DIP SLIDERS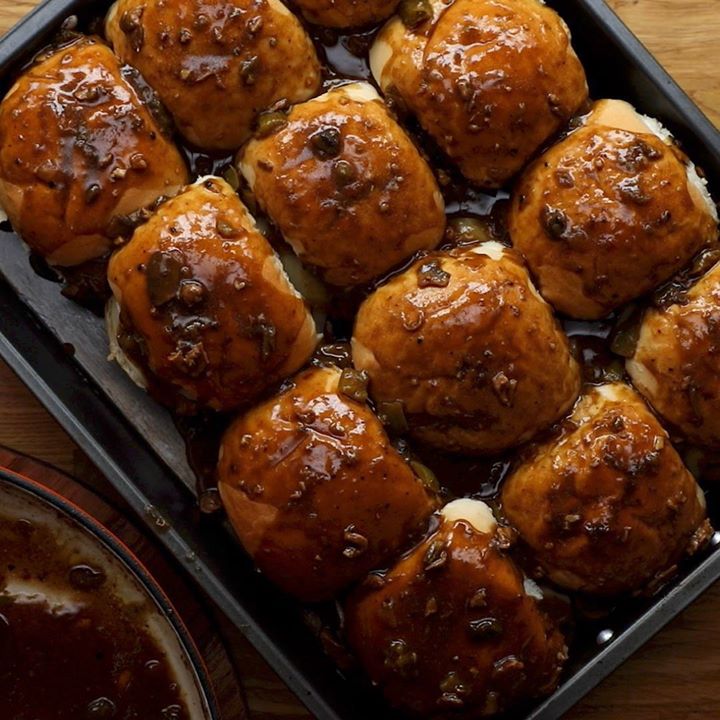 Ingredients
1 tsp vegetable oil
1kg thinly sliced sirloin steak
2 green peppers, diced small
1 large white onion, diced small
150g white mushrooms, sliced
1 ltr beef stock
1 tsp Worcestershire sauce
12 slider buns
24 slices provolone cheese
Instructions
Preheat the oven to 180°C/360°F.
Heat a little oil in a deep sided frying pan with a lid and brown the steak all over, then remove from the pan with a pair of tongs.
Add the onions and peppers and fry until soft, then add the mushrooms and keep cooking until a little of their moisture has evaporated. Add the garlic and stir until fragrant.
Pop the beef back in and add the flour, salt and pepper.
Pour over the beef stock and the Worcestershire sauce and bring to a simmer, then cover with a lid and cook until the beef is soft and the gravy nice and thick, around an hour.
Arrange the bottom halves of all the slider rolls on a tray and top with cheese, then use a slotted spoon to add the beef mixture, followed by more cheese. Top with the top of the rolls and spoon gravy all over them.
Bake for around 10 - 15 minutes until they are cooked through and the cheese has melted.
Watch the recipe video here:
Cheesesteak French Dip Sliders

Posted by Twisted on Thursday, December 21, 2017