BLT Sushi
One fusion food that is definitely worth trying.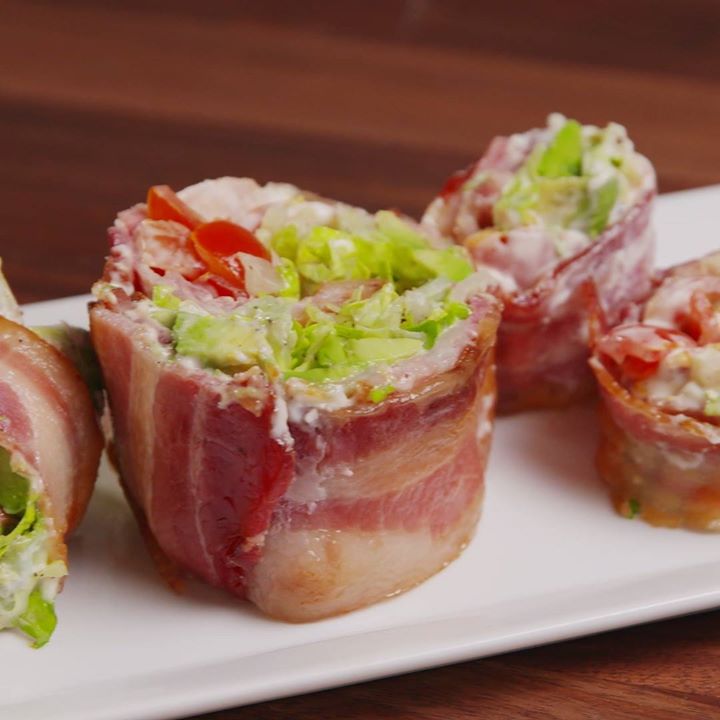 Ingredients
10 slices bacon
2 tbsp. mayo
1 c. chopped tomatoes
1 c. shredded romaine
kosher salt
Freshly ground black pepper
Instructions
Preheat oven to 400º. On a large baking sheet with a wire rack placed on top, line 5 slices bacon side by side. Lift one end of every other bacon slice and place another bacon slice on top of the lifted pieces. Lay the slices back down. Next, lift opposite bacon slices back and place a bacon slice on top. Lay the slices back down. Repeat the weaving process until you have a bacon weave of 5 strips by 5 strips.
Bake until cooked but still pliable, 20 minutes.
Pat bacon weave with paper towels to drain fat and transfer to a piece of saran wrap (helps for rolling!).
Spread a thin layer of mayo on top of bacon weave, then top with tomatoes (keep them on the bottom ⅓ for easier rolling) and romaine. Season with salt and pepper.
Starting from the bottom, tightly roll, then slice.
Watch the recipe video here:
BLT Sushi is the fun way to make your favorite sandwich low-carb.Full recipe: http://dlsh.it/yGGDPjR

Posted by Delish on Saturday, January 13, 2018