Chicken Parmesan Loaded Fries
Say hello to the most indulgent, delicious and naughty loaded fries! Get some friends together and get this dish out for the games, you'll be the favourite!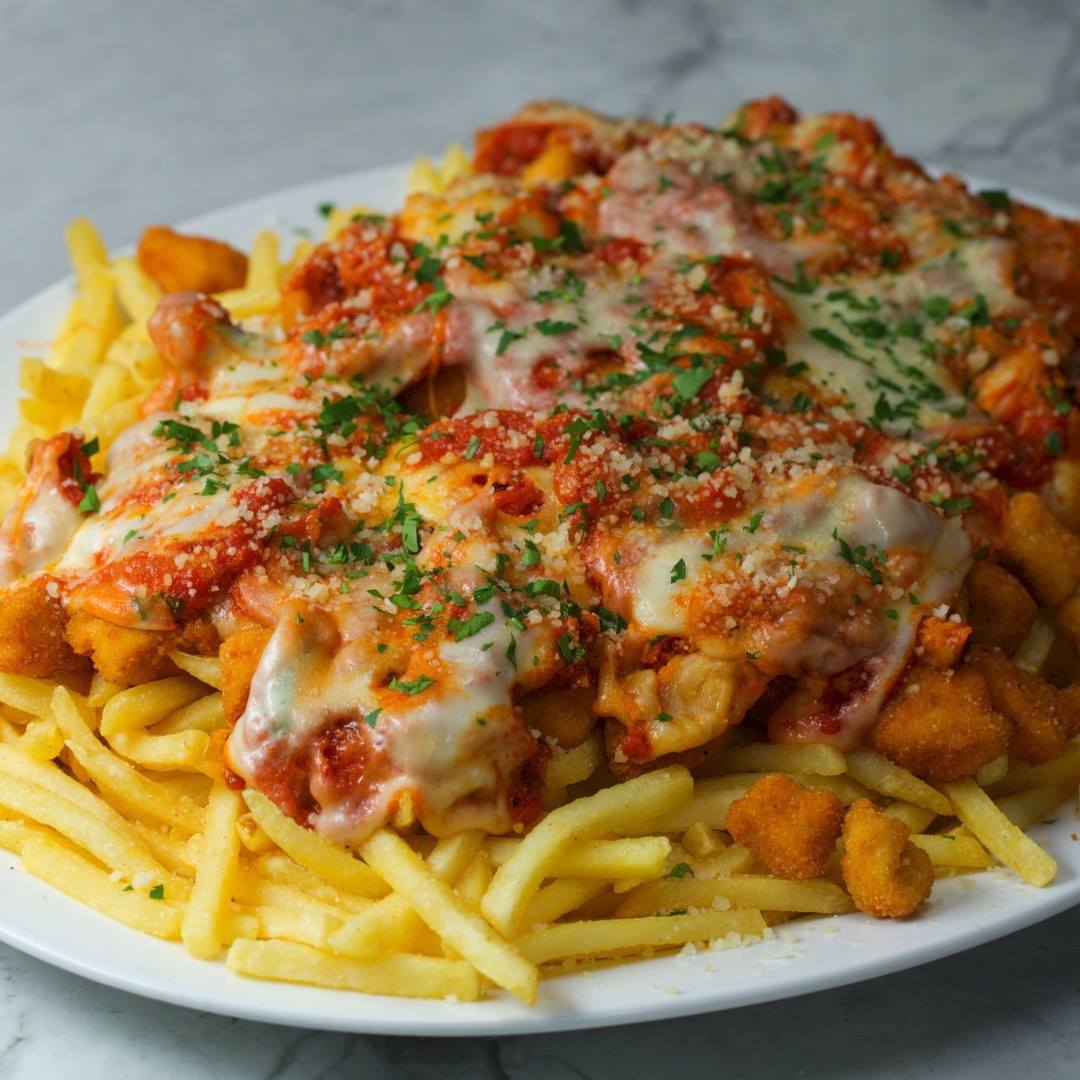 Ingredients
4 chicken breasts, diced into bite size pieces
3 eggs whisked
1½ cups seasoned flour
1½ cups bread crumbs
⅓ cup grated parmesan
Salt and Pepper to taste
1 tbsp butter
1 onion, diced
2 cloves garlic, minced
2 sprigs basil roughly chopped
4 cups passata
Salt and pepper to taste
1 tsp sugar
1½ cups grated mozzarella
Grated parmesan
Chopped parsley
French Fries
Oil for Frying
Instructions
Arrange a breading station with eggs in one bowl, seasoned flour in another and breadcrumbs in another. Add ⅓ cup parmesan to breadcrumbs and season with salt and pepper.
Dip each piece of chicken in flour followed by egg then bread crumbs to coat. Repeat with remaining chicken. Set aside while oil heats.
Heat oil to 170ºC. Fry chicken piece until golden brown, keep warm in the oven.
Heat 1 tbsp butter in a wide pan over medium heat. Add onion and sauce until softened. Stir in garlic and cook until aromatic. Add basil and stir through. Pour in passata and season with salt, pepper and sugar. Cover with a lid and let cook until thickened about 10 minutes. Top with mozzarella cheese, cover with a lid to let steam.
Meanwhile, fry chips!
Top chips with breaded chicken. Pour sauce over chicken and fries. Sprinkle with more grated parmesan cheese and chopped parsley.
Enjoy!
Watch the recipe video here:
Chicken Parmesan Loaded Fries

Posted by Twisted on Wednesday, September 26, 2018