Chili Con Queso
Chili Con Queso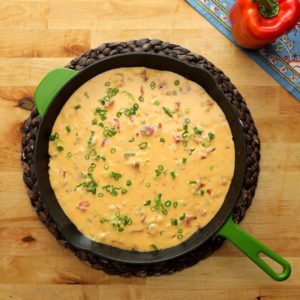 Ingredients
2 teaspoons vegetable oil
1 medium yellow onion, diced
1 red bell pepper, seeded and diced
1 lb ground beef (455 g)
3 tablespoons McCormick® Chili Seasoning
½ cup milk (120 mL)
½ cup heavy cream (120 mL)
½ cup water (120 mL)
2 tablespoons corn starch
16 oz american cheese (450 g)
1 teaspoon salt
15 oz diced tomato, strained (450 g)
8 oz diced green chiles, strained (225 g)
1 bunch scallion, sliced
1 bag corn chips, for serving
Instructions
Heat the vegetable oil in a large skillet over medium heat. Add the onion and bell pepper and cook for 2 minutes, until starting to soften. Add the ground beef and chili seasoning. Cook until the beef is cooked through, about 5 minutes. Remove the pan from the heat.
In a small saucepan, whisk together the milk and heavy cream. Bring to a boil, then remove from the heat.
In a small bowl, whisk together the water and cornstarch to form a slurry. Pour the slurry into milk mixture and whisk to combine. Put mixture back on the heat and bring to a simmer.
Whisk in the cheese until fully melted and season with the salt. Add the diced tomatoes and green chiles and whisk to combine.
Pour the queso over the chili mixture. Garnish with scallions and serve with corn chips for dipping.
Enjoy!
Watch the recipe video here:
https://www.facebook.com/1614251518827491/posts/2640725322846767/