Whole30 Coconut-Crusted Shrimp with Pineapple-Chili Sauce
Think just because you're in Whole30 mode, indulgent dishes like coconut-crusted shrimp are off limits? In this ingenious rendition, you can dig right in, all the way down to the delectable sweet-and-sour dipping sauce.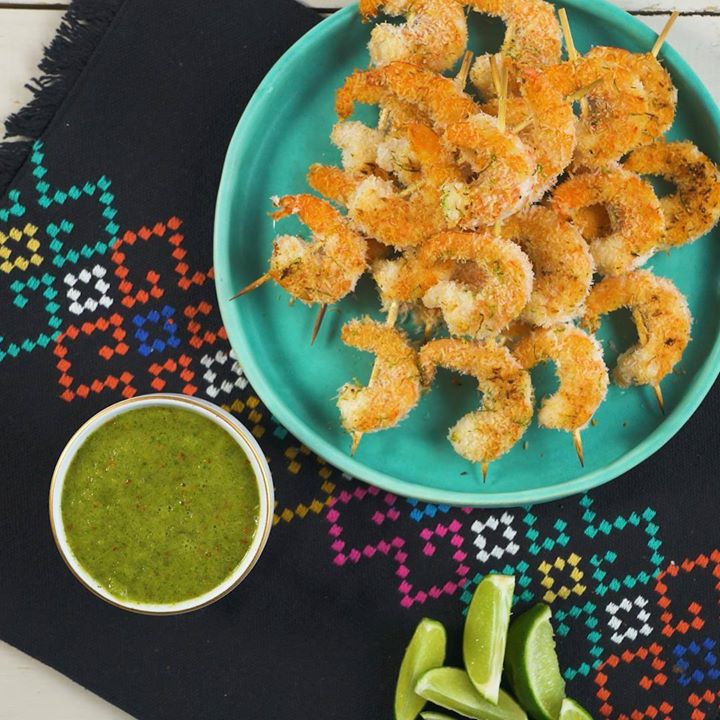 Ingredients
1 pound peeled and deveined large shrimp, tails removed
1 cup unsweetened shredded coconut
Zest and juice of 1 lime
Kosher salt and freshly ground black pepper
2 large egg whites
¼ cup chopped fresh cilantro
¼ teaspoon red pepper flakes
1 small clove garlic
½ small fresh pineapple, peeled, cored and roughly chopped
Instructions
Special equipment: seven 6-inch skewers, soaked for 30 minutes if wood or bamboo
Preheat the broiler and line a baking sheet with a wire rack. Thread 3 shrimp onto each of seven 6-inch skewers and set aside.
Combine the coconut, lime zest, 1 teaspoon salt and a few grinds of black pepper in a shallow bowl. Brush the shrimp with the egg whites, then press into the coconut mixture until completely coated. Transfer to the prepared baking sheet and broil, flipping halfway through, until the coconut is crispy and golden brown and the shrimp are pink and no longer opaque in the middle, 3 to 4 minutes.
Meanwhile, blend the cilantro, red pepper flakes, garlic, pineapple and lime juice in a blender until smooth and vibrant green. Serve alongside the shrimp.
Watch the recipe video here:
Bring tropical flavors and spice to a cold winter day with these Coconut-Crusted Shrimp with Pineapple-Chili Sauce. (Bonus: they're Whole30-approved!) (Via You (Better))

Posted by Food Network on Friday, January 12, 2018