BAILEYS CINNAMON SWIRL CARAMEL APPLE PIE
We've rolled back the years to bring a classic comfort food bang up to date. Our latest collaboration with Baileys, this pie is the perfect comfort food for shorter days and colder nights. If combining apples, Baileys and cinnamon swirls sounds like a match made in heaven, then this is the recipe for you.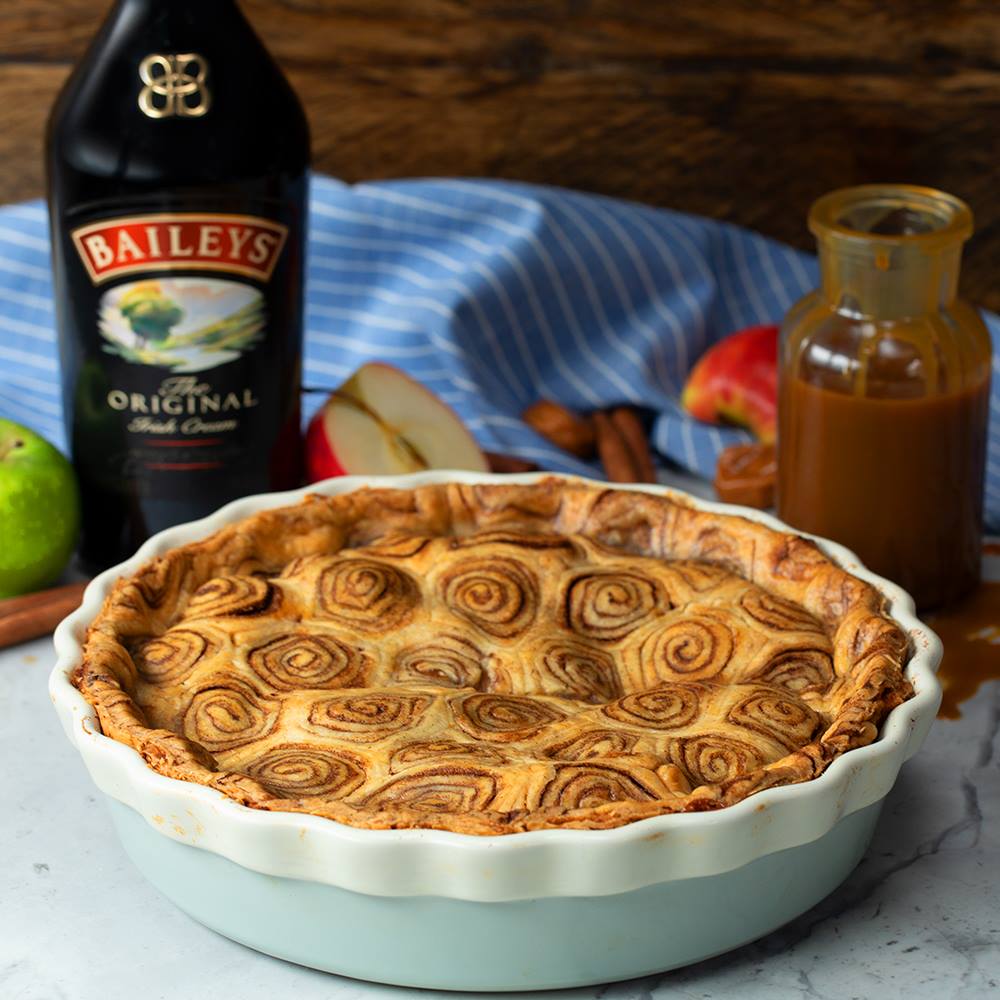 Ingredients
Pie:
2 refrigerated pie crusts
30g unsalted butter,
melted
4 tsp ground cinnamon
55g butter
150g brown sugar
5g cinnamon
25g flour
120ml Baileys
8 cups Granny Smith
apples peeled, cored,
thinly sliced
Egg wash
Caramel Sauce:
225g caramel
50ml Baileys
Instructions
Pre-heat oven to 180ºC (350ºF).
Roll out one pie crust. Brush with melted butter and sprinkle evenly
with cinnamon. Roll tightly into a log. Cut into ¼" rounds. Repeat with
second pie crust.
Place half of the rounds in a greased pie dish and press to adhere and
attach to form a crust right to the edges of the pie dish. Brush with egg
wash and set aside.
In a pan, butter, brown sugar and cinnamon until a caramel is formed.
Remove from heat and cool down. Stir through Baileys until combined.
Add apples and stir to coat completely.
Place apples into prepared crust and ladle about 1-2 small ladles over top.
Place remaining cinnamon swirl rounds in a circle in-between two
pieces parchment paper. Roll out to ¼" thick and place on top of the
apples. Press edges to seal and cut any excess pie crust. Brush the top
evenly with egg wash and cut a small X in the center of the pie.
Bake for 45 minutes until apples are cooked through and crust is golden
brown.
Meanwhile, heat caramel in a pot. Let cool slightly, Stir through Baileys.
Sliced, Serve with Baileys caramel sauce and vanilla ice cream. Enjoy!
Watch the recipe video here: