Crispy Chili Beef
Treat yourself to a little weekday spice with this crispy chili beef ?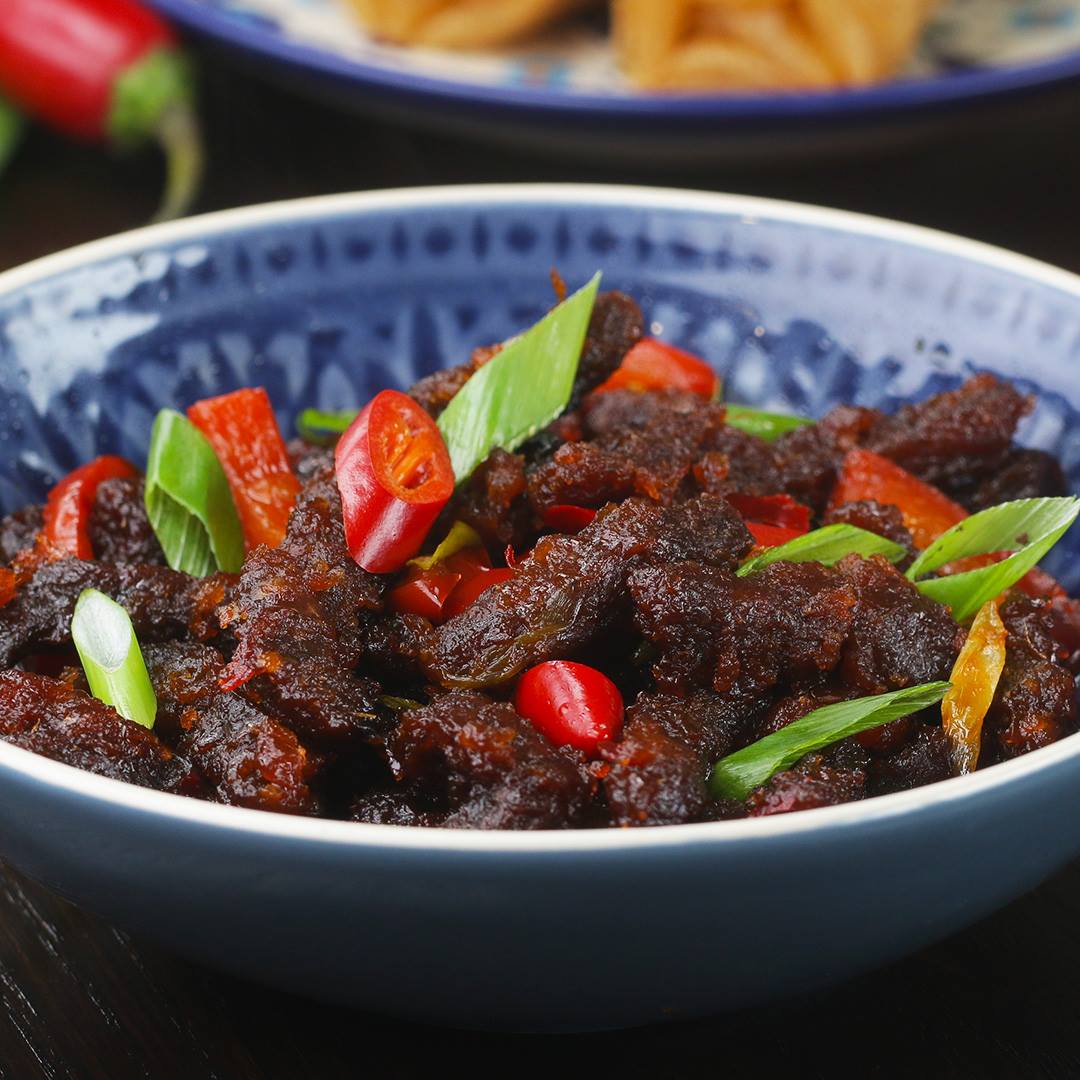 Ingredients
¾ lb frying steak (300 g)
⅔ cup cornflour (100 g)
1 tablespoon chinese 5 spice
1 teaspoon salt
1 teaspoon pepper
4 cups oil, for frying (1 L)
2 red chilis
1 spring onion, thinly sliced
1 oz ginger, thinly sliced (25 g)
1 red bell pepper, thinly sliced
1 tablespoon garlic paste
1 tablespoon soy sauce
2 tablespoons sweet chilli sauce
1 tablespoon red wine vinegar
1 tablespoon tomato ketchup
spring onion, to garnish
red chilli, to garnish
Instructions
Slice the steaks into thin strips and place into a small bowl.
Add the cornflour, 5 spice, salt, and pepper. Mix until evenly coated.
Carefully heat the oil in a deep saucepan until it reaches 190°C (375°F).
Carefully place the beef strips into the oil and fry for about 4-5 minutes, until golden brown.
Place on some tissue to soak up the excess oil and set a aside.
Meanwhile, prepare the sauce by adding a tablespoon of oil to a frying pan. Frying the chilies, spring onion, and ginger over a medium heat for a few minutes. Add garlic paste and fry for another minute.
Stir in the soy sauce, sweet chili sauce, red wine vinegar, and tomato ketchup until thick.
Stir in the beef steaks until evenly coated.
Garnish with spring onion and red chilies.
Enjoy!
Watch the recipe video here:
Treat yourself to a little weekday spice with this crispy chili beef ?FULL RECIPE: https://tasty.co/recipe/crispy-chili-beef

Posted by Proper Tasty on Thursday, September 27, 2018