Bacon Double Cheeseburger Spirals
Bacon Double Cheeseburger Spirals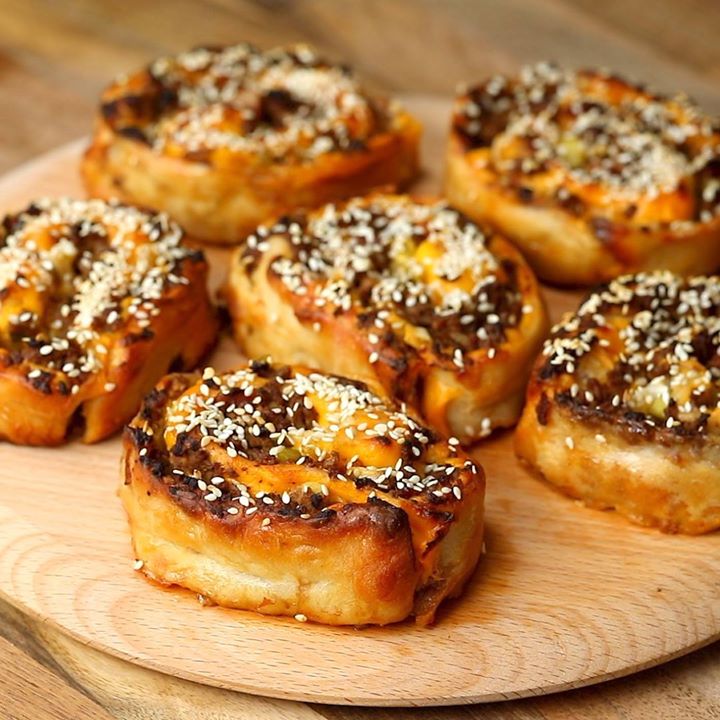 Ingredients
1lb ground beef
8 rashers bacon, chopped
¼ cup finely chopped gherkins
¼ cup finely chopped white onion
18 slices American cheese
¼ cup ketchup
1 tsp salt
1 tsp pepper
½ tsp garlic powder
440g pizza dough
Egg wash
Sesame seeds
Instructions
Pre-heat oven to 200C (400F). Line a large baking sheet with parchment paper.
In a large non-stick pan over medium heat, fry bacon until just crispy. Remove and set aside.
Add ground beef to hot pan and break apart. Cook until browned, about 4-5 minutes. Add salt, pepper and garlic powder, stir to combine. Stir in bacon and ketchup. Cook for another 5 minutes to reduce. Take off heat and let cool completely.
Roll out pizza dough into a long rectangle.
Lay 9 pieces of American cheese down, top with a layer of beef mixture, chopped onions, gherkins and another 9 pieces of American cheese. Roll into a tight log. Slice into 1-inch thick pieces and place cut side up on the baking sheet. Brush edges and center spiral of dough with egg wash. Sprinkle with sesame seeds.
Bake for 15 minutes, until golden brown.
Enjoy!
Watch the recipe video here:
Bacon Double Cheeseburger Spirals

Posted by Twisted on Tuesday, October 3, 2017