Strawberry Lemon Love Cake
Strawberry Lemon Love Cake, we love you so much. ???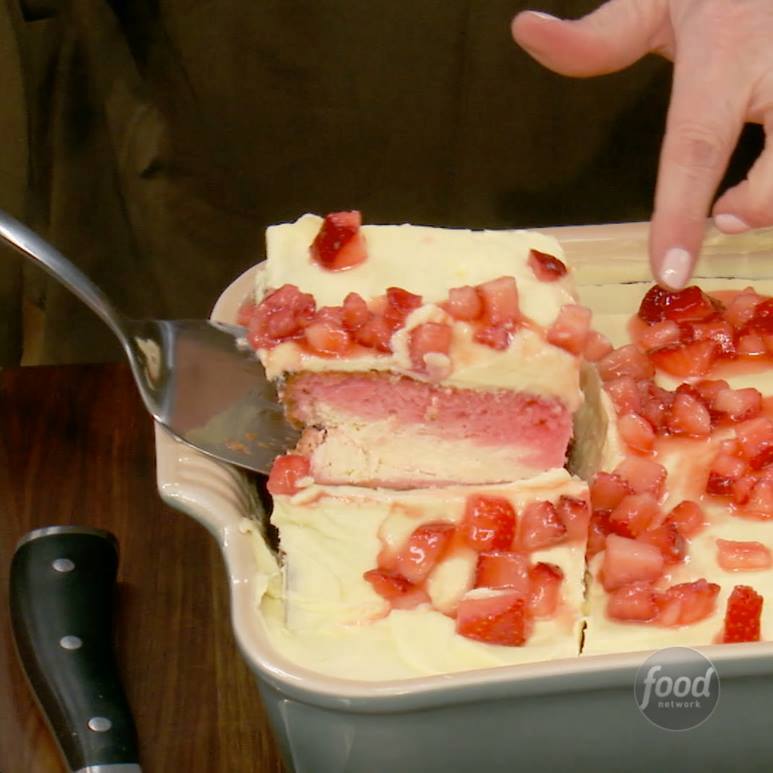 Ingredients
Nonstick cooking spray, for the baking pan
One 16.5-ounce box strawberry cake mix (plus required ingredients)
32 ounces part-skim ricotta cheese
¾ cup sugar
1 teaspoon vanilla extract
4 large eggs
16 ounces mascarpone cheese
1 cup milk
One 3.4-ounce box instant lemon pudding mix
Diced fresh strawberries, for topping
Lemon zest, for topping
Instructions
Preheat the oven to 350 degrees F. Spray a 9-by-13-inch baking pan with cooking spray.
Prepare the cake batter according to the package directions and pour it into the prepared pan. Set aside.
Combine the ricotta, sugar, vanilla, eggs and 4 ounces (1/2 cup) of the mascarpone in the bowl of a stand mixer fitted with a paddle attachment. Beat on medium speed until smooth, scraping down the sides of the bowl with a rubber spatula as needed. Gently scoop the filling onto the cake batter, covering it completely.
Bake until a skewer inserted in the center of the cake comes out clean and the strawberry layer has risen to the top, 50 to 60 minutes. Cool completely on a rack.
Meanwhile, beat the remaining 12 ounces mascarpone in a medium bowl with an electric mixer on medium speed until smooth. Gradually add the milk, beating until smooth. Add the pudding mix and beat until smooth. Let stand until thickened, about 5 minutes. Spread the frosting over the cooled cake.
Mix the diced strawberries and lemon zest together in a bowl. Top each slice of cake with a spoonful of the strawberries.
Watch the recipe video here:
Strawberry Lemon Love Cake, we love you so much. ??? #TheKitchen > All-New Today @ 11a|10c

Posted by Food Network on Saturday, June 16, 2018