Pineapple Upside Down Donuts
Now this is a story all about how these pineapple donuts got flipped upside down...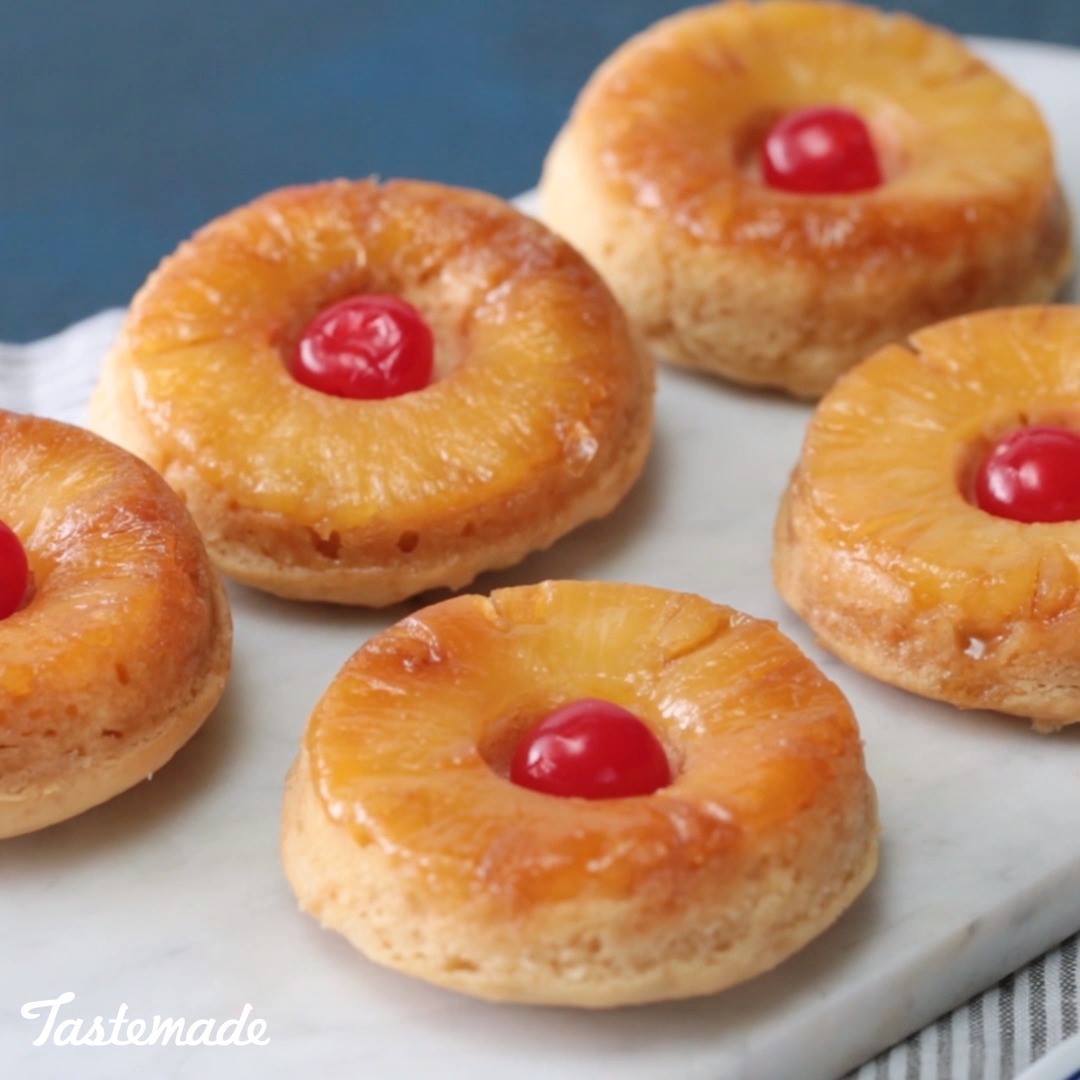 Ingredients
1 large egg
⅓ cup light brown sugar, plus more for sprinkling
2 tablespoons whole milk
2 tablespoons fresh pineapple juice
¼ cup sour cream
2 tablespoons unsalted butter, melted
1½ teaspoons vanilla extract
1 cup self-rising flour
1 (15-ounce) can of pineapple rings
Maraschino cherries, for garnish
Instructions
Preheat oven to 350 degrees, and spray a donut pan with nonstick cooking spray.
In a medium bowl, whisk together egg, brown sugar, milk, pineapple juice, sour cream, melted butter and vanilla extract. Gently add in the self-rising flour until combined.
In each well of the donut pan, sprinkle about 1 tablespoon of brown sugar and lay half a pineapple ring (sliced in half lengthwise so the cake/fruit ratio is even). Carefully spoon the batter over the pineapple rings and spread evenly.
Bake for 15 to 20 minutes. Set aside to cool on a wire rack. Turn the pan upside down to flip the donuts out. Garnish each with a cherry in the middle, serve and enjoy!
Watch the recipe video here:
Is it donuts, or doughnuts? Do you reallyTaste for Yourself: taste.md/2K6GktiTry Tastemade TV for a week: https://taste.md/2JRnYNS

Posted by Tastemade on Thursday, June 21, 2018