Impossible Ham And Swiss Pie
While we've tried our hand at several impossible pie desserts, we had yet to try out a savory one. Typically an impossible pie is a one-batter recipe that separates while cooking and turns into 2-3 distinct layers upon being baked, and this recipe is no different. Most similar to a crustless quiche, this is just one batter that gets poured over your ham, cheese and onion, then turns into a light and puffy, eggy filling layer and a perfectly browned, crispy top layer. This dish is perfect at any time of day, breakfast, lunch or dinner.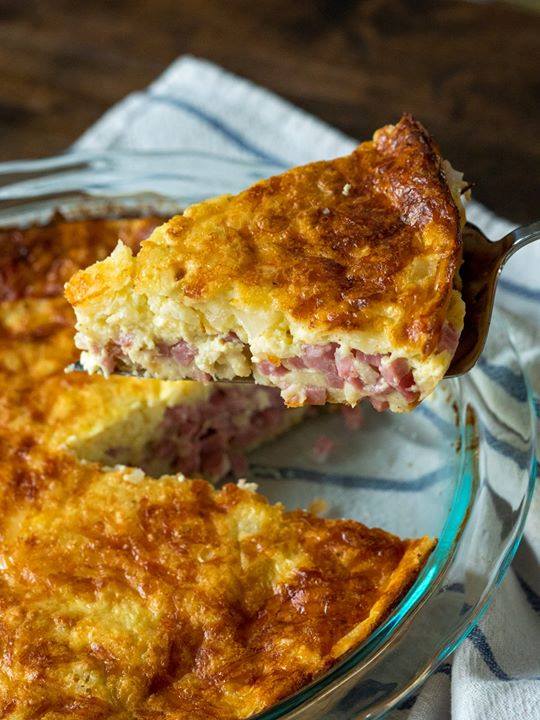 Ingredients
2 cups diced ham
1 cup Swiss cheese, grated
½ cup yellow onion, finely chopped
4 large eggs, beaten
2 cups whole milk
1 cup dry biscuit mix
½ teaspoon salt
½ teaspoon garlic powder
½ teaspoon onion powder
¼ teaspoon pepper
Instructions
Preheat oven to 400º F and lightly grease a 10-inch pie plate with butter or non-stick spray.
Spread ham out on the bottom of greased pie dish and top with onions and Swiss cheese.
In a large bowl, whisk together eggs, milk and biscuit mix, then season with salt, garlic powder, onion powder and pepper.
Pour egg mixture over ham, onions and cheese, then place pie dish in oven.
Bake for 35-40 minutes, or until top is golden brown and bubbly, and toothpick inserted in center comes out clean.
Remove from oven, then slice, serve and enjoy.