Pearl Onion Soup
Pearl Onion Soup recipe.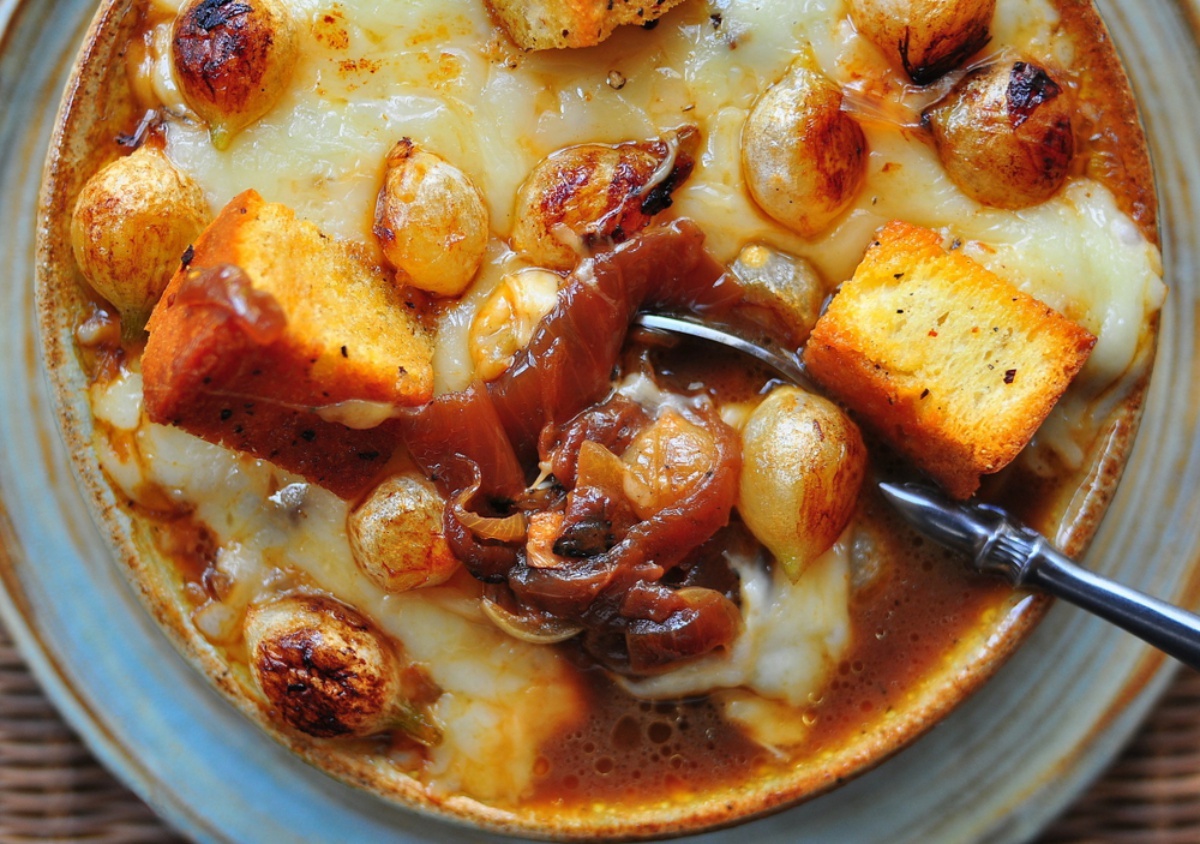 Ingredients
1 (14.4 oz.) bag frozen pearl onions, thawed and drained
4 large yellow onions, peeled and thinly sliced
2 tablespoons unsalted butter
1 tablespoon extra-virgin olive oil
4 cloves garlic, minced
1 teaspoon dried sage
1 teaspoon dried thyme
½ tablespoon balsamic vinegar
½ cup preferred red wine
2 (32 oz.) containers beef stock
2 bay leaves
½ teaspoon kosher salt
¼ teaspoon black pepper
2 cups Swiss or gruyere cheese, grated
Croutons:
1 loaf French bread
¼ cup (1/2 stick) unsalted butter, melted
¼ teaspoon garlic powder
¼ teaspoon onion powder
Instructions
Heat butter and olive oil in a stock pot or Dutch oven over medium heat and add pearl onions and sliced yellow onions.
Season with salt and pepper and cook, stirring occasionally, for 15 minutes, or until softened and translucent and beginning to brown.
Stirring frequently to prevent burning, continue cooking onions until caramelized.
Season with sage and thyme, then add garlic and cook for another 1-2 minutes, or until fragrant.
Stir in balsamic vinegar and red wine to deglaze pan, making sure to scrape up browned bits on bottom of pan.
Pour in beef stock and bay leaves, then bring to a boil. Reduce heat to low and let simmer for 25-30 minutes.
Preheat oven to broil setting.
For croutons, whisk together melted butter, garlic and onion powders in a small bowl, then brush over French bread until coated.
Slice into thick cubes, then place in an even layer on a baking sheet. Place in oven and broil for 3-5 minutes, keeping an eye on the bread so it doesn't burn.
Ladle soup into serving bowls and top with cheese and garlic croutons. Optional: pour soup into oven-proof bowls and top with cheese and croutons, then place in oven and broil for 3-5 minutes, or until cheese is melted.
Remove from oven and serve hot. Enjoy!