Oreo Brownie Ice Cream Sandwiches
Friends don't let friends eat this alone.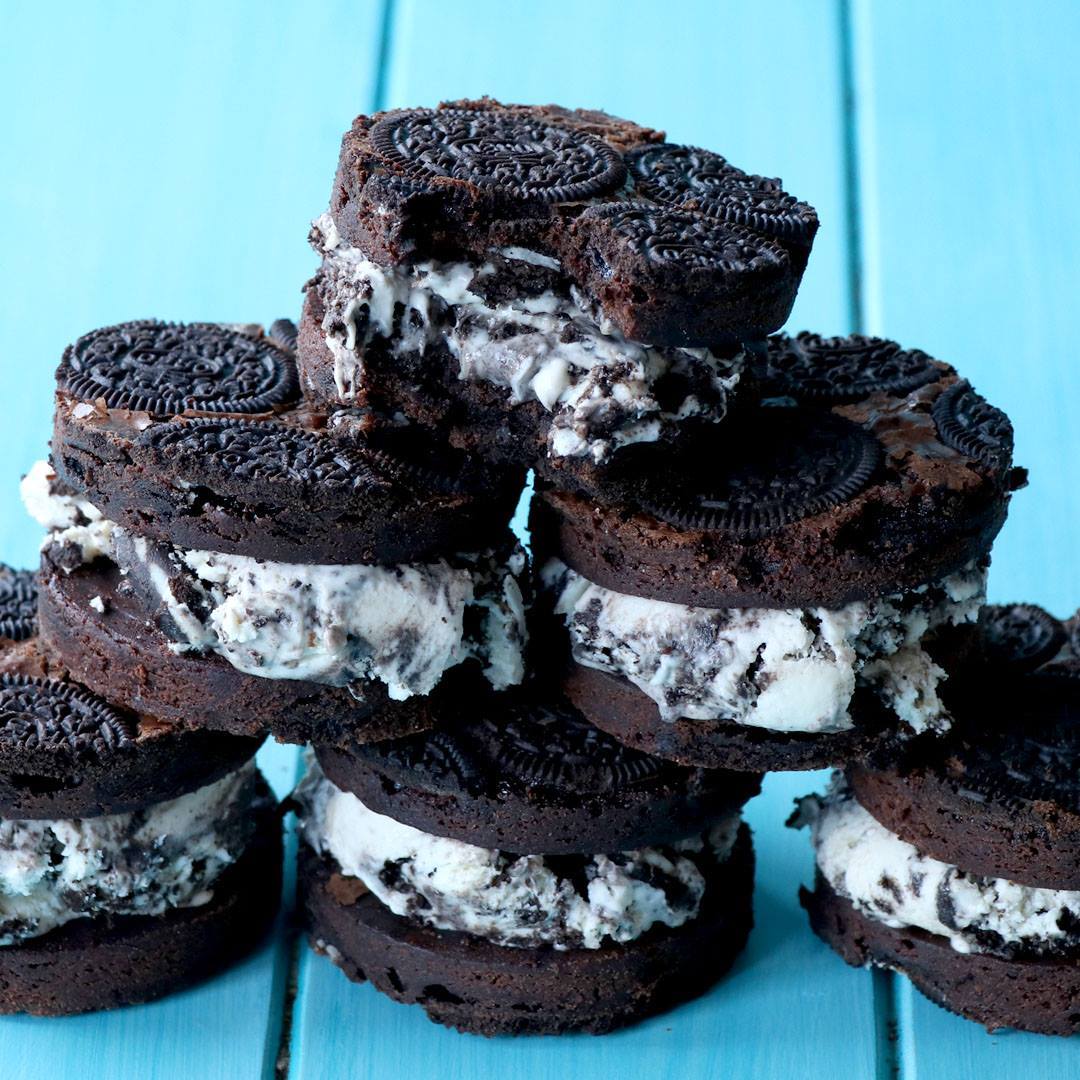 Ingredients
Ice Cream
400ml thickened/whipping cream
½ cup powdered sugar
1 tsp vanilla
1 cup chopped Oreos
40g plain flour
40g cocoa
150g castor sugar
150g butter
150g chocolate
3 eggs
1 cup chopped Oreos
20 whole Oreos
Instructions
Ice Cream
Add cream, sugar and vanilla to a large mixing bowl and whip on high speed until you reach stiff peaks. Add chopped Oreos and fold in.
Place in a 8" x 8" cake pan and freeze overnight.
Brownies
Preheat a fan forced oven to 175C (340F). Spray 30/20cm baking tray pan with non stick cooking spray and lay the bottom and sides with parchment paper. Set aside.
Add butter and chocolate to a microwave safe bowl. Microwave for 20 seconds at a time and repeat until it becomes smooth.
Add flour, eggs, sugar to a large mixing bowl and mix on low speed using the paddle attachment or a wooden spoon until everything is combined.
Slowly add chocolate and butter mixture while mixing on low speed.
Add chopped Oreos and fold in.
Add batter to baking tin lined with baking paper. Add whole Oreos on top. Bake for 30 min or until a pick comes out with moist crumbs.
Once the brownies have baked and cooled completely use a 3 inch round cookie butter to cut out 12 shapes from the brownies. I found placing a chopping board on top of your brownies and flipping them over on to the baking tray helps because you cut from the side without Oreos.
Add a scoop of ice cream on top of one brownie cookie and then add another cookie on top and squish the ice cream.
Watch the recipe video here:
Friends don't let friends eat this alone.Taste for Yourself: taste.md/2KXKYHT

Posted by Tastemade on Friday, June 22, 2018