Chicken Parm Stuffed Shells
How have we not done this sooner?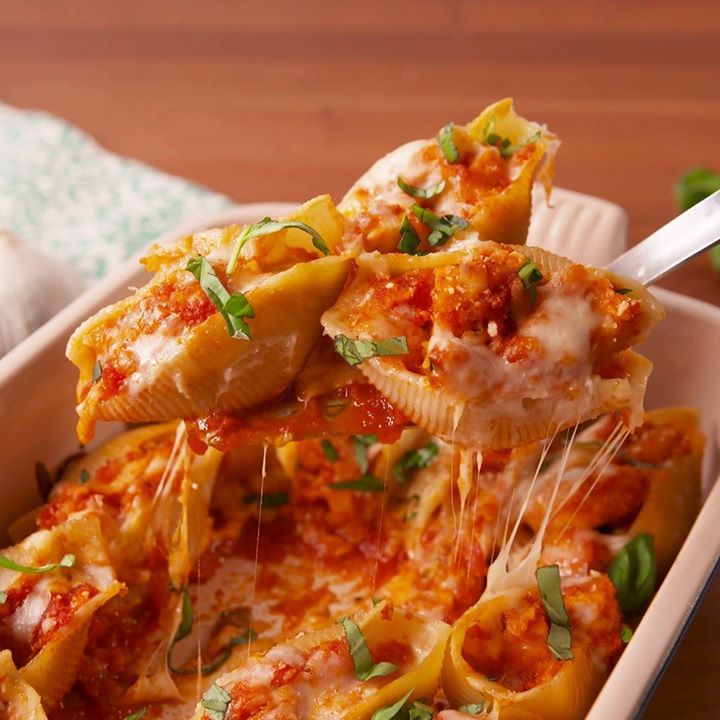 Ingredients
1 lb. jumbo shells
3 c. shredded mozzarella, divided
½ c. freshly grated Parmesan, plus more for serving
3 cloves garlic, minced
2¼ c. marinara, divided
1 tbsp. freshly chopped basil, plus more for garnish
pinch of crushed red pepper flakes
kosher salt
Freshly ground black pepper
12 oz. fresh or frozen breaded chicken, cooked according to package directions and diced
Instructions
Preheat oven to 375º. In a large pot of salted boiling water, cook pasta according to package directions until al dente. Drain and set aside.
In a large bowl, combine 2 cups mozzarella, Parmesan, garlic, 2 cups marinara, basil, and red pepper flakes and season with salt and pepper. Stir until combined, then gently fold in chicken.
Add remaining ¼ cup marinara to the bottom of a 9"x13" baking dish. Spread in a thin layer over the bottom of dish. Stuff chicken mixture into shells and arrange on top of sauce side by side. Sprinkle shells with remaining mozzarella and bake for 30 minutes, until cheese is melted and turning slightly golden.
Cool slightly, garnish with parm and basil and serve.
Watch the recipe video here: