Crescent Cheesecake Bars
Nothing is better than cheesecake sandwiched between buttery crescent sheets.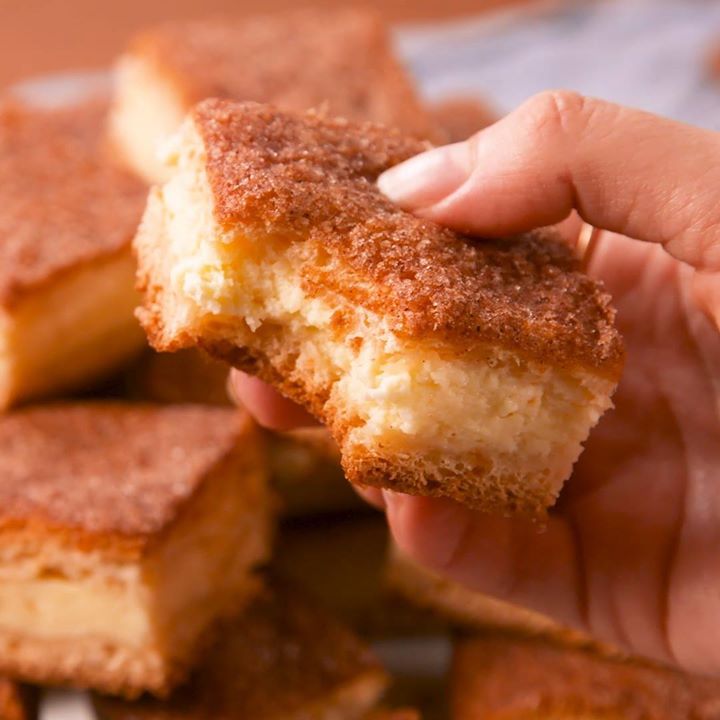 Ingredients
nonstick cooking spray
2 (8 oz.) bars cream cheese, softened to room temperature
⅔ c. sugar
2 large eggs
¼ c. sour cream
½ tsp. pure vanilla extract
pinch of kosher salt
2 tubes crescent dough
1 tbsp. butter, melted
2 tbsp. cinnamon sugar
Instructions
Preheat oven to 375° and spray a 9x13 baking dish with nonstick cooking spray. In a large bowl, combine cream cheese, sugar, eggs, sour cream, vanilla, and kosher salt. Using a hand mixer, mix all ingredients together until smooth.
Press one sheet crescent dough into prepared baking dish, making sure to stretch to reach all edges of baking dish. If dough is perforated, pinch all perforations closed.
Spread cheesecake mixture in an even layer and top with another layer of crescent dough. Brush top with melted butter and sprinkle with cinnamon sugar. Bake until crescent is golden and cooked through, 25 to 30 minutes.
Let cool and slice into squares. Serve.
Watch the recipe video here: