Oreo Bark
I don't know about you guys, but anything that is cookies and cream flavor ALWAYS hits the spot! Whether it be ice cream, a candy bar, fudge…you can never go wrong with these flavors! This cookies and cream bark is super easy and great to bring to any event! You can even make these for your friends around the holidays!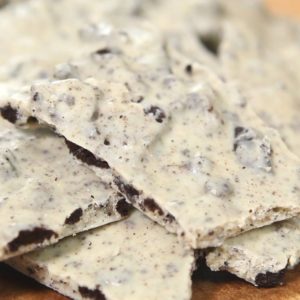 Ingredients
24 oz White chocolate (I used 2 bags of white chocolate chips)
2 Tbsp Vegetable shortening
1 CUP Chocolate cookies crumbs
Instructions
Cover a cookie sheet with foil or parchment paper.
Place the white chocolate and shortening in the top pan of a double boiler.
Heat while stirring until thoroughly melted.
Once the white chocolate is melted stir in ½ cup of the cookie crumbs until just blended. Do not over-stir.
Spoon the melted chocolate onto the cookie sheet. Then use a spatula to spread it evenly over the cookie sheet.
Let sit in the freezer for 30 minutes to firm up.
Break the cookies and cream bark into pieces.
Enjoy!
Watch the recipe video here: