Orange-Pistachio Divinity
Old-fashioned divinity candy is even yummier with a hint of refreshing orange zest and bits of crunchy pistachios. Store-bought versions just can't compare! —Lorri Reinhardt, Big Bend, Wisconsin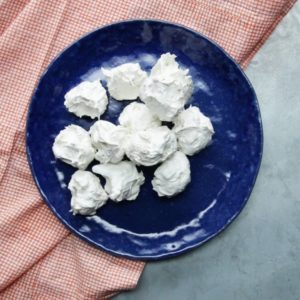 Ingredients
2 large egg whites
2-2/3 cups sugar
⅔ cup light corn syrup
½ cup water
1 teaspoon grated orange zest
1 teaspoon vanilla extract
⅔ cup pistachios, coarsely chopped
Instructions
Place egg whites in bowl of a stand mixer; let stand at room temperature 30 minutes. Meanwhile, line two 15x10x1-in. pans with waxed paper.
In a large heavy saucepan, combine sugar, corn syrup and water; cook and stir until sugar is dissolved and mixture comes to a boil. Cook, without stirring, over medium heat until a thermometer reads 252° (hard-ball stage). Just before that temperature is reached, beat egg whites on medium speed until stiff peaks form.
With mixer continuing to run on high speed, slowly add hot sugar mixture in a thin stream over egg whites, beating constantly and scraping sides of bowl occasionally. Add orange zest and vanilla. Beat until candy holds its shape and begins to lose its gloss, 5-6 minutes. (Do not overbeat, or candy will stiffen and crumble.) Immediately fold in pistachios.
Quickly drop mixture by tablespoonfuls onto prepared pans. Let stand at room temperature until dry to the touch. Store between layers of waxed paper in an airtight container at room temperature.
Watch the recipe video here: