Tex-Mex Taco Hashbrown Casserole Is the Perfect Breakfast-For-Dinner Mashup Meal!
Breakfast for dinner is in regular rotation at my household - we just can't get enough! This Tex-Mex Taco Hashbrown Casserole is the perfect breakfast-for-dinner mashup meal that the whole family will love. This extra-crispy, extra-cheesy meal is packed with veggies and will win the key to your heart. Why not give it a try for dinner tonight?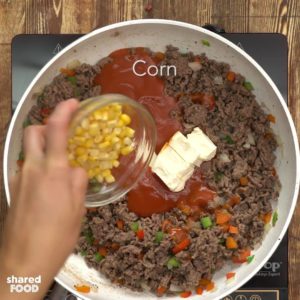 Ingredients
1 pound lean ground beef
½ cup green pepper, diced and divided
½ cup red pepper, diced and divided
½ cup corn
1 packet taco seasoning
1 can (10.5 ounces) condensed tomato soup
3 ounces cream cheese
½ cup onion, diced and divided
2 cups Mexican-style cheese, shredded and divided
1 teaspoon salt
½ teaspoon pepper
30 ounces shredded hashbrown potatoes, thawed
Instructions
Preheat oven to 350 degrees. Prepare a 2 ½ quart casserole dish with nonstick spray.
In a large skillet over medium-high heat, cook ground beef, half the peppers, and half the onion until browned. Drain any grease from the pan, then turn the heat down to medium-low.
Add in the tomato soup, corn, and cream cheese, stirring until well-combined and smooth. Add the taco seasoning and 1 cup of cheese, then transfer evenly to the prepared casserole dish.
In a mixing bowl, stir together the potatoes, remainder of the peppers and onions, salt, pepper, and the remainder of the cheese. Transfer evenly on top of the ground beef mixture in the casserole dish, pressing down as needed.
Bake 30-35 minutes, or until golden brown on top. Enjoy!
Watch the recipe video here:
https://www.facebook.com/1000605023309848/posts/2031717963531877/