Chicken Enchilada Pie
Layer it up.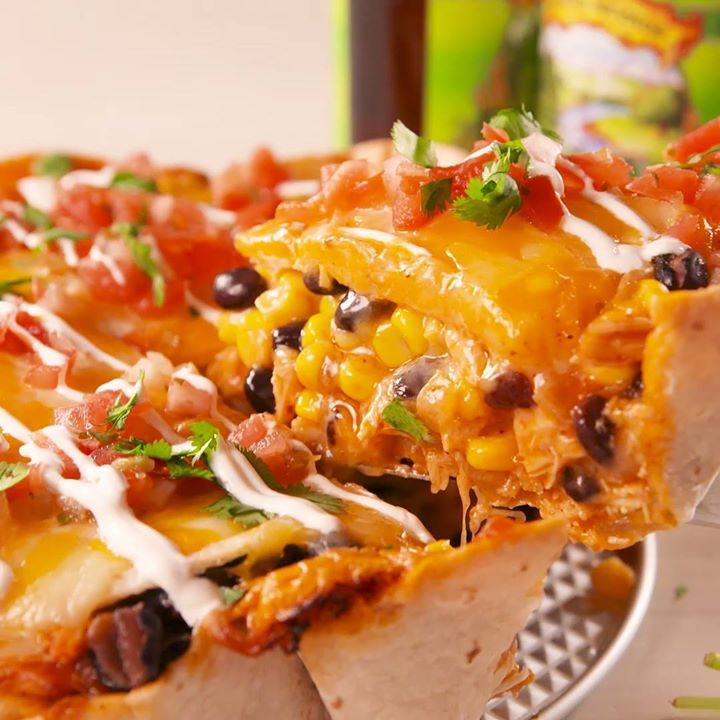 Ingredients
Cooking spray, for pan
5 medium flour tortillas
1 tbsp. extra-virgin olive oil
½ medium onion, chopped
2 garlic cloves, minced
1 (19-oz.) can enchilada sauce
3 c. shredded chicken
1 (15-oz.) can corn, drained
1 (15-oz.) can black beans, drained and rinsed
3 c. shredded cheddar
3 c. shredded monterey jack
Freshly chopped cilantro, for garnish
Sour cream, for garnish
Instructions
Make crust: Preheat oven to 350°. Grease a 9" springform pan with cooking spray. Arrange 4 tortillas in bottom of pan, pressing tortillas up sides of pan. Bake until lightly golden, about 15 minutes.
Make filling: In a large skillet over medium heat, heat olive oil. Add onion and cook until soft, about 5 minutes. Stir in garlic and cook until fragrant, another minute. Add enchilada sauce and chicken and bring mixture to a simmer. Remove from heat.
Assemble pie: Spoon an even layer of chicken on top of baked tortilla crust then top with half each of corn, black beans, cheddar, and Monterey jack. Top with remaining chicken, corn, and black beans; then place remaining tortilla on top and sprinkle with remaining cheese.
Bake 40 minutes, or until the tortillas are golden and toasty and the cheese has melted.
Let cool in pan for at least 10 minutes, then garnish with pico de gallo, cilantro and sour cream.
Watch the recipe video here: