Bacon Burger Wellington
From the "more is more files," we bring you the positively overstuffed Bacon Burger Wellington.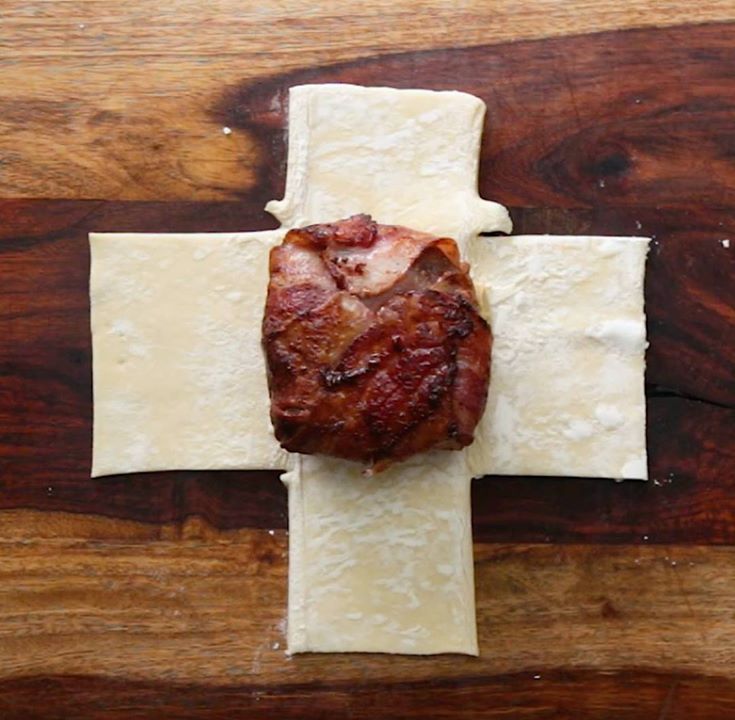 Ingredients
4 burger patties
4 slices cheddar cheese, cut into quarters
2 sheets puff pastry, halved
3 tablespoons Dijon mustard
8 strips thick-cut bacon, cooked
1 large egg, lightly beaten
1 teaspoon sesame seeds
Lettuce and tomato, for serving
Instructions
Preheat the oven to 425, and line a baking sheet with parchment paper.
Divide burger patties in half and place 4 cheese squares in between each half patty. Seal sides and cook in a cast-iron pan on medium-high heat until medium rare. Remove from heat and set aside while you prepare the Wellington wraps.
Lay out a puff pastry rectangle and place a burger in the center. Top with mustard and wrap the bacon around the burger. Remove excess puff pastry and fold dough around the wrapped burger, forming a tightly sealed package. Seal sides with egg wash and top with sesame seeds. Repeat with remaining burgers. Place on a baking sheet and bake for 20 to 25 minutes until puff pastry is golden. Let rest for 5 minutes, and serve with lettuce, tomatoes and your favorite condiments.
Watch the recipe video here:
PSA: Messy burgers are a thing of the past.Taste for Yourself: taste.md/2rVyw2n

Posted by Tastemade on Monday, May 21, 2018