French Onion Bread Bowl
Is it even winter if you're not eating soup in a bread bowl?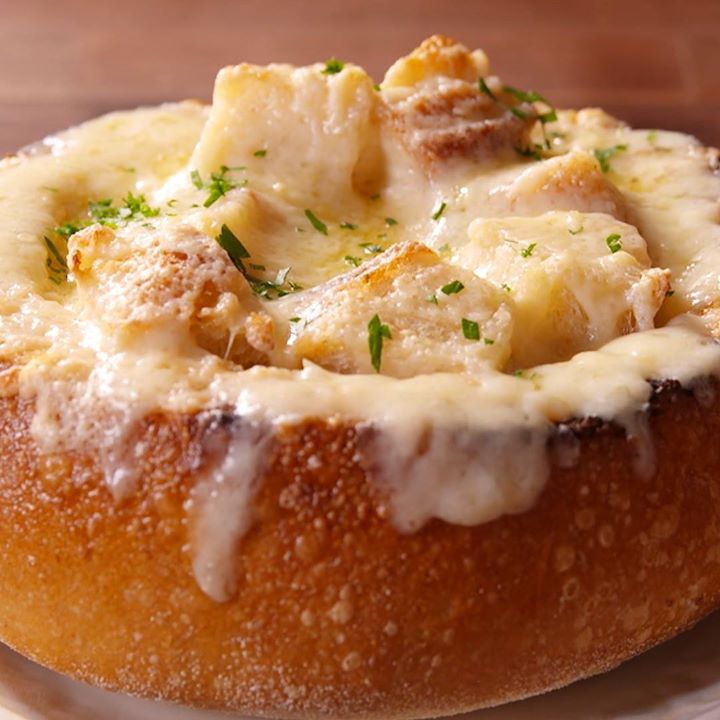 Ingredients
3 tbsp. butter
1 tbsp. olive oil
3 large onions, thinly sliced
⅓ c. red wine
4 c. beef broth
2 sprigs thyme
1 bay leaf
1 c. shredded Gruyere
boule
3 tbsp. flour
3 cloves garlic, minced
Finely chopped parsley, for garnish
Instructions
Combine butter and olive oil in a large pot over medium heat. Heat until the butter is melted. Add onions, thyme and bay leaf. Season with salt and pepper and cook until the onions are soft and starting to caramelize. Remove aromatics and pour in red wine. Bring to simmer and cook until almost evaporated. Stir in flour garlic, then add beef broth. Simmer slowly for about 20 minutes to allow the flavors to meld. Check for seasoning, adding more salt and pepper if necessary.
Meanwhile, cut off the top off boule and scoop out the inside bread to create two bowls. Discard (or save for another use).
Place the bread bowls on a small sheet pan. Sprinkle cheese inside the bottom of each bread bowl. Ladle the soup into the bowl. Top with cubed bread and remaining cheese on top. Broil until the cheese is melted, about 2 minutes. Garnish with parsley.
Watch the recipe video here: