Cajun Angel Hair
This creamy chicken sausage pasta packs so much flavor.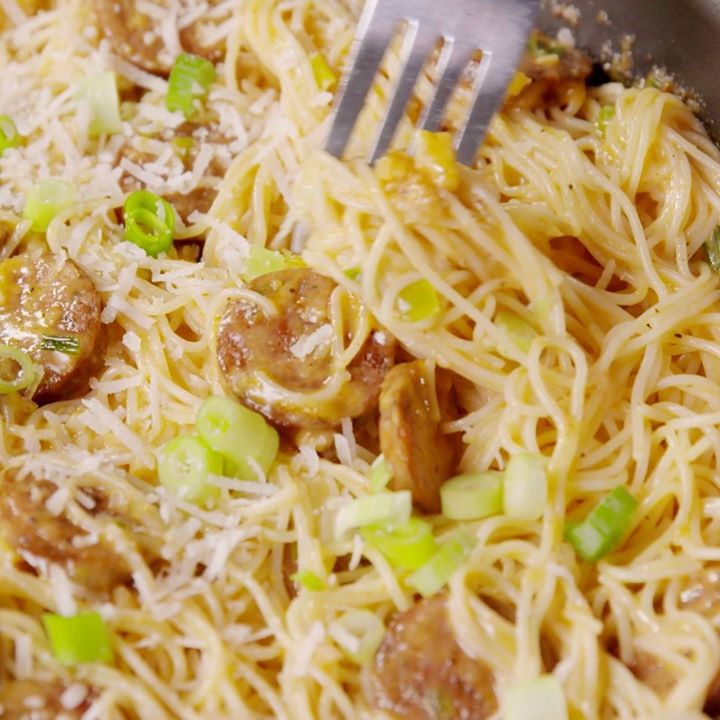 Ingredients
kosher salt
12 oz. angel hair
1 tbsp. extra-virgin olive oil
1 lb. chicken sausage
2 tbsp. butter
3 cloves garlic, minced
⅓ c. sliced green onions, plus more for garnish
1 tbsp. Cajun seasoning
2 tsp. paprika
¼ c. dry white wine
½ c. heavy cream
½ c. freshly grated Parmesan, plus more for garnish
⅓ c. shredded Cheddar
Instructions
In a large pot of salted boiling water, cook angel hair according to package directions.
In a large skillet, heat oil. Add sausage and cook until seared, 5 minutes, then push sausage to the side and add butter. Let melt, then add garlic and cook until fragrant, 2 minutes. Add green onions and cook until soft and fragrant, 2 minutes more. Stir until combined with sausage.
Add Cajun seasoning and paprika and stir until combined. Add white wine and heavy cream and let simmer until thickened, 5 minutes.
Add Parmesan and cheddar and stir until melted and creamy, then add angel hair and toss until completely combined.
Garnish with more green onions and Parm and serve.
Watch the recipe video here:
Cajun Angel Hair is nearly impossible to stop eating.Full recipe: http://dlsh.it/8OzASiU

Posted by Delish on Sunday, January 21, 2018