Boston Cream Poke Cake
A new twist on a classic dessert. The secret: instant vanilla pudding mix.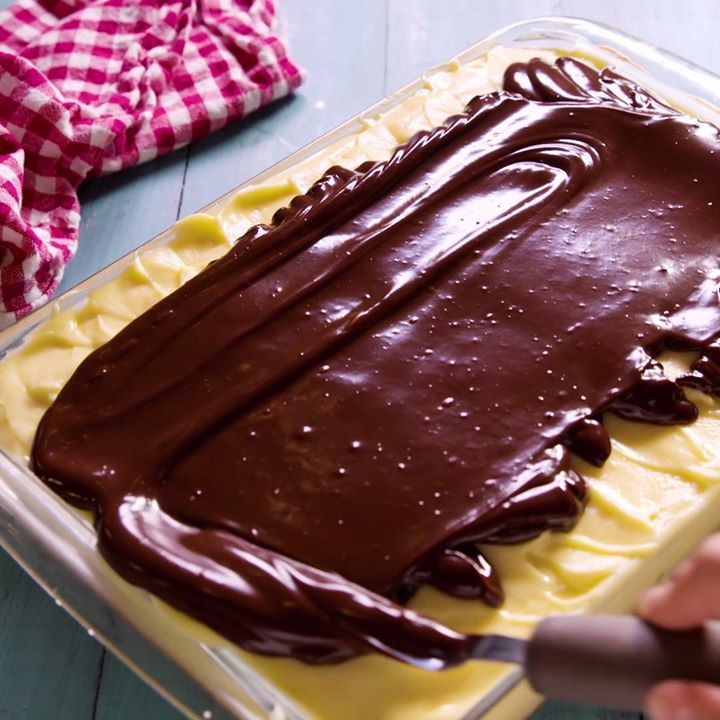 Ingredients
1 box yellow cake mix (plus additional ingredients required)
2 (5.1-oz) packs of instant vanilla pudding
4 c. cold milk
2 c. chocolate chips
1 c. heavy cream
Instructions
Preheat oven to 350 degrees F. Butter a 9-x-13" pan and sprinkle with flour.
Prepare cake mix according to box instructions. Pour into prepared baking dish and bake until a toothpick inserted in the middle of the cake comes out clean, about 25 minutes. Cool the cake completely.
When the cake is cool, poke big holes across entire surface of the cake using the rounded end of the wooden spoon. Combine pudding mix and milk in a medium bowl and whisk until the mixture just begins to thicken. Pour over the cake and spread with a spatula to make sure the pudding pours into the holes. Cover and refrigerate for 2 hours.
After the cake has been refrigerated for 2 hours, make the ganache. Put chocolate chips in a medium glass bowl and set aside. Meanwhile, bring heavy cream to a simmer in a small saucepan. When bubbles start to break the surface, pour the hot cream over the chocolate chips and whisk until the mixture is smooth. Pour the ganache over the pudding layer of the cake and serve.
Watch the recipe video here: