Strawberry Lemonade Icebox Cake
Layers of pound cake, strawberries and frozen cream form the perfect treat for the sunniest of afternoons.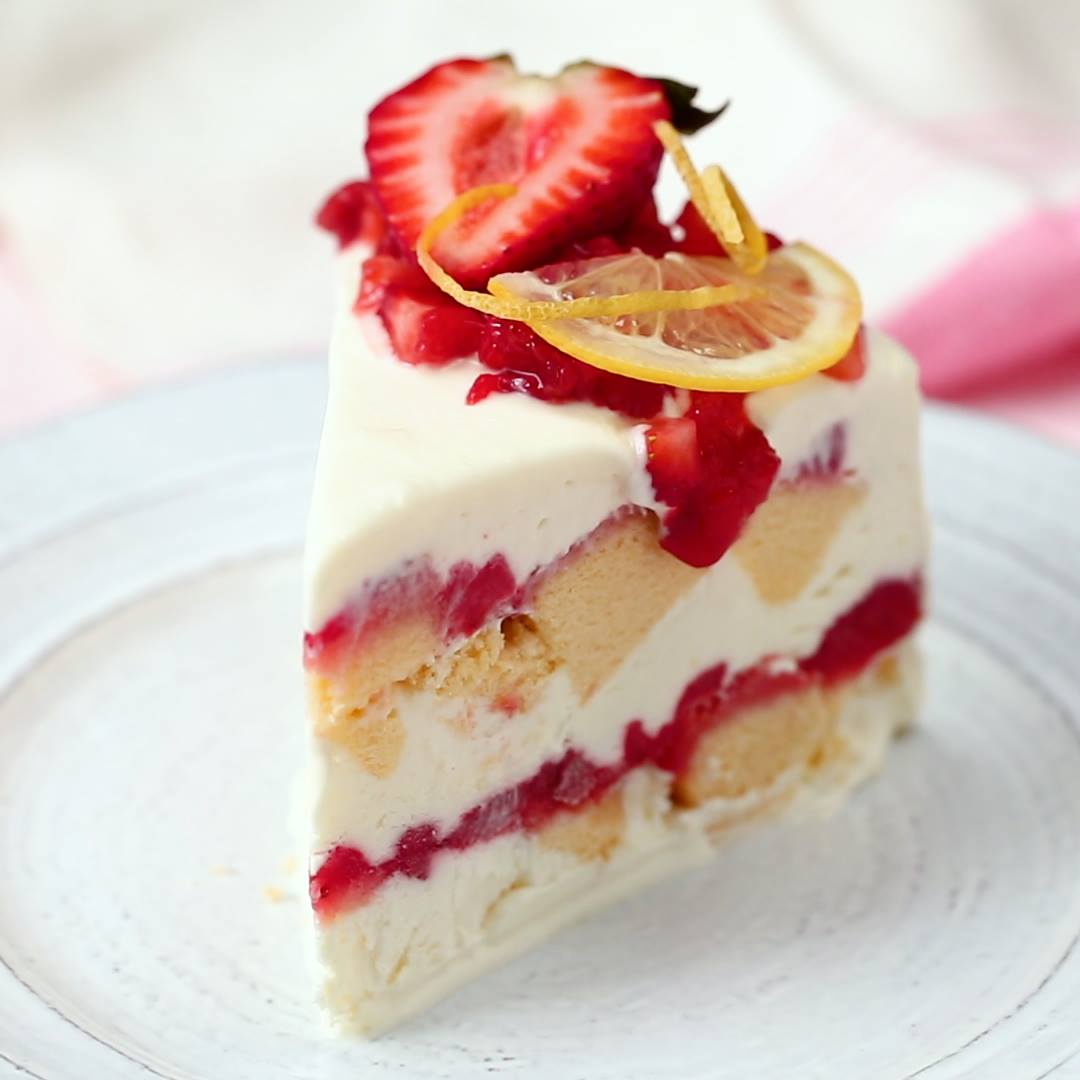 Ingredients
For the strawberry sauce:
4 cups fresh strawberries, diced and divided
2 tablespoons granulated sugar
2 tablespoons water
Squeeze of fresh lemon juice
For the lemon ice cream:
8 ounces mascarpone cheese, room temperature
1 cup sweetened condensed milk
⅔ cup lemon curd, plus more for garnish
2 cups heavy whipping cream
Zest of 1 lemon
1, 9x5 store-bought or homemade pound cake, tops, bottoms and sides trimmed and sliced lengthwise into 4 even slabs
½ cup store-bought lemonade
Fresh strawberries and lemon slices for garnish
Instructions
To make the sauce, combine 3 cups of strawberries and remaining sauce ingredients in a medium saucepan over medium heat until the mixture begins to boil. Reduce the mixture to a simmer for about 5 minutes until it begins to thicken and reduces by half, about 15 minutes.
Remove from the heat and cool to room temperature. Refrigerate until ready to use.
Line a 9x5 inch loaf pan with pieces of plastic wrap, long enough to drape over the sides.
Place mascarpone, sweetened condensed milk, and lemon curd in the bowl of stand mixer fitted with a whisk attachment, and beat over high speed until smooth, about 3 minutes.
Add the heavy cream and lemon zest and beat on medium-high speed until medium peaks form. Reserve ⅓ of the cream for serving.
Place a layer of pound cake in the bottom of the prepared pan. Using a pastry brush, brush the cake with a light coating of lemonade, followed by a ¼ of the lemon ice cream mixture, making sure to smooth the surface as much as possible.
Spoon about ¼ cup of the strawberry sauce evenly over the lemon cream and top with some of the reserved diced strawberries, followed by another layer of pound cake.
Repeat the process with the remaining layers, freezing between layers if needed.
Finish with a layer of lemon cream and a final layer of pound cake. Make sure to save about ½ cup of strawberry sauce for serving.
Wrap the entire cake in plastic wrap and freeze for at least 10 hours or overnight.
When ready to serve, remove the plastic wrap and invert the cake onto a cutting board. Peel off the plastic wrap and trim the sides of the cake with a knife.
Transfer the cake to a serving platter, and spread the top and sides of the cake with the reserved lemon cream.
Serve the cake topped with lemon curd, reserved strawberry sauce, fresh strawberries and lemon slices.
Watch the recipe video here: