Crescent-Wrapped Chicken Parmesan
Crescent-Wrapped Chicken Parmesan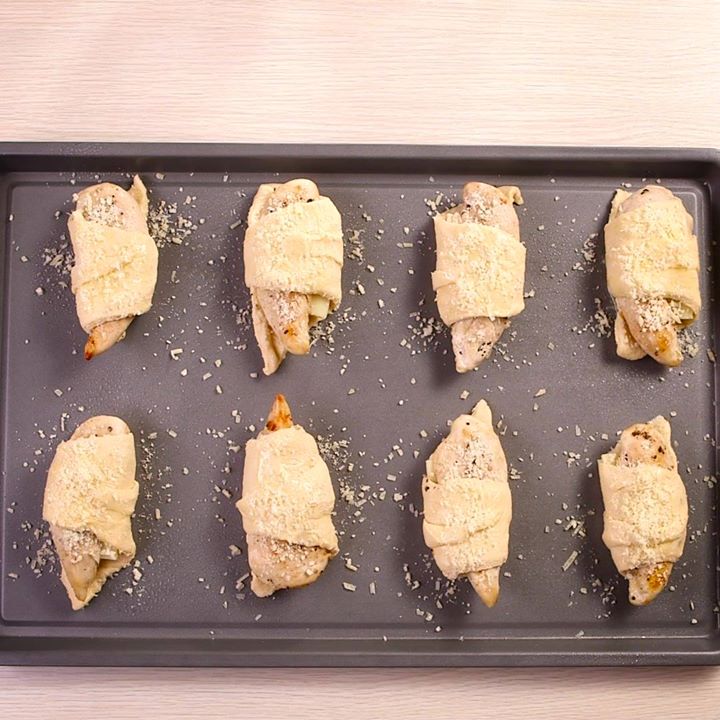 Ingredients
8
uncooked chicken tenderloins (about 1¼ lb)
¼
teaspoon salt
¼
teaspoon pepper
3
tablespoons butter
2
oz deli mozzarella cheese
1
can (8 oz) Pillsbury™ refrigerated crescent dinner rolls
3
tablespoons grated Parmesan cheese
1
cup marinara sauce
Instructions
Heat oven to 375°F. Spray cookie sheet with cooking spray; set aside. Season chicken with salt and pepper. In 10-inch nonstick skillet, melt 2 tablespoons of the butter over medium-high heat; cook chicken in butter 8 to 10 minutes or until chicken is well browned on all sides. Remove from skillet; cool slightly.
Cut mozzarella cheese into 8 pieces; cut small slits in side of each chicken tenderloin, and insert piece of mozzarella cheese. Unroll dough; separate into 8 triangles. Place piece of chicken on wide end of triangle; roll dough around chicken, and place on cookie sheet. Repeat for remaining dough and chicken.
In small microwavable cup, microwave remaining 1 tablespoon butter uncovered on High 15 to 30 seconds or until melted. Brush crescents with melted butter; top each with about 1 teaspoon Parmesan cheese.
Bake 14 to 18 minutes or until golden brown. In microwavable measuring cup, heat marinara sauce covered on Medium-High (70%) 1 to 2 minutes or until heated through. Serve chicken with heated marinara sauce.
Watch the recipe video here:
A game day app your crowd will go crazy over.Crescent-Wrapped Chicken Parmesan recipe: https://www.pillsbury.com/recipes/crescent-wrapped-chicken-parmesan/f31d4cff-dbf4-4f52-8b36-9ed4aa2e3c0b?utm_medium=social&utm_source=facebook&utm_campaign=01_2018_standard?mktgimp=PBRBGCRESCNT

Posted by Pillsbury on Sunday, January 21, 2018