Twin Cities Dogs, Why Have One When You Can Have Two
Twin Cities Dogs! Why have just one when you can have two...at the same time??? Delicious tasting hot dogs wrapped into a soft and flaky crescent roll - that has YUMMY written all over it!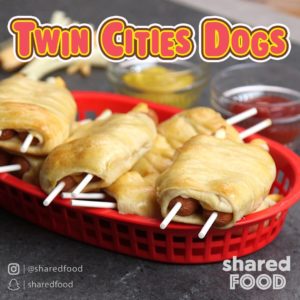 Ingredients
one pack of hot dogs
1 stick of mozzarella string cheese
1 stick of cheddar cheese
1 can of Pillsbury Crescent dinner rolls
1 egg (beaten)
raft sticks
Instructions
Preheat oven to 375 degrees.
Slit hot dogs down the middle and place a strip of mozzarella cheese and a strip of cheddar cheese inside.
Lay out the Crescent Dinner Rolls and create rectangles by pinching the seams together.
Place hot dogs in the middle of one of the rectangles, and then using a knife create slits in the side of the dough so that you can layer the hot dogs in a braided format.
Once all hot dogs are wrapped, brush over the top of the crescent braids with an egg wash, and then place into the oven.
Bake for 20 min or until crescents are golden brown.
Garnish with ketchup and mustard!
Enjoy!
Watch the recipe video here: