Cheeseburger Crescent Ring
Crescent rolls are here to change everything you thought you felt about buns.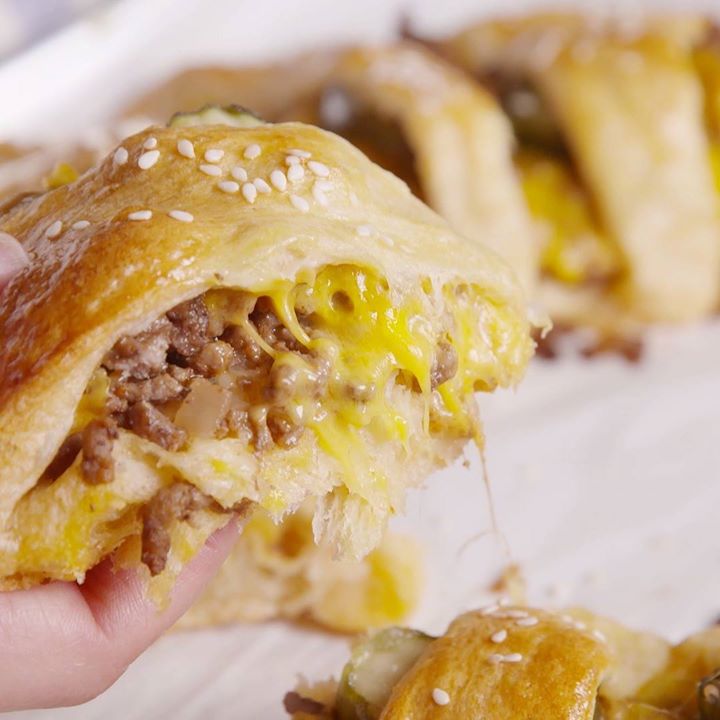 Ingredients
1 tbsp. vegetable oil
1 onion, chopped
1 lb. ground beef
kosher salt
Freshly ground black pepper
1-2 tbsp. yellow mustard
1-2 tbsp. ketchup
2 (8-oz) tubes Crescent Rolls
6 slices cheddar cheese, halved
⅓ c. dill pickle chips
1 egg, beaten with 1 tablespoon water (for egg wash)
Sesame seeds (untoasted), for garnish
Instructions
Preheat oven to 375° and line a large baking sheet with parchment paper. In a large skillet over medium heat, heat oil. Add onion and cook until soft, about 5 minutes. Add ground beef, breaking the meat up with a wooden spoon. Season with salt and pepper, and cook until browned all over and cooked through, another 4-5 minutes. Turn off heat and drain fat.
Return skillet over low heat and check for seasonings, adding more salt and pepper if necessary. Add ketchup and mustard and stir until evenly combined. Turn off heat.
Unroll crescent rolls, separating each triangle. Arrange in a sunburst pattern, with pointy ends of the triangles facing outward (the base of the triangles should overlap). Spread ground beef mixture over triangle bases, forming a ring. Top with cheddar slices then with pickle chips.
Fold triangle tips over filling (there will be gaps where meat and cheese peeks out between crescent rolls). Brush the top of the dough with egg wash and sprinkle with sesame seeds.
Bake until dough is golden and the cheese has melted, 15 to 20 minutes.
Serve warm.
Watch the recipe video here: