Cucumber Lovers Will Go Crazy For These Refreshing Cucumber Subs
Whoever said sandwiches needed to be made with bread clearly never tried these cucumber subs! They're refreshing, simple to make and easy to customize with whatever toppings you like. You can eat these subs as a snack, for lunch or cut them into bite sized pieces for a delicious and easy-to-make appetizer. Try making them with turkey, tuna, chicken or bacon to see what flavor you like best! Also, these are a great thing to make if you're eating a low carb diet. Have you ever tried making a bread-less sandwich? What ingredients did you use? Get the full list of ingredients and directions for these cucumber subs below.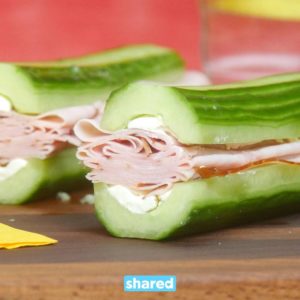 Ingredients
1 large cucumber
Ham deli meat slices
Cream cheese
Instructions
Cut the cucumber in half length-wise.
Scoop out the seeds to make room for your sandwich fillers.
Add the ham (or your choice of meat) and cream cheese to the inside of the cucumber.
Place the two halves together and enjoy!
Watch the recipe video here: