Filipino Adobo Chicken
Filipino Adobo Chicken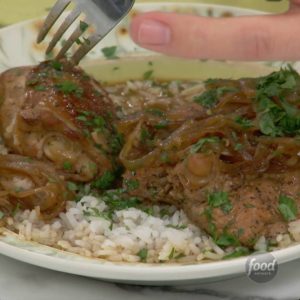 Ingredients
8 bone-in, skin-on chicken thighs
¼ cup low-sodium soy sauce
¼ cup distilled vinegar
2 tablespoons brown sugar
1 tablespoon freshly ground black pepper
½ habanero, thinly sliced
1 tablespoon olive oil
2 cups thinly sliced onions
2 cloves garlic, thinly sliced
2 bay leaves
1 cup fresh parsley, finely chopped
4 cups steamed jasmine rice
4 lime wedges
Instructions
Combine the chicken with the soy sauce, vinegar, sugar, black pepper and habanero in a resealable plastic bag. Marinate overnight, refrigerated.
Remove the chicken from the bag and pat dry (reserve the marinade).
Heat a Dutch oven over medium-high heat and add the olive oil. Add the chicken skin-side down and cook until brown, about 4 minutes. Remove the chicken and set aside. Add the onion and garlic and cook until the onions soften and are slightly translucent, about 5 minutes. Strain the marinade and add it to the Dutch oven along with 4 cups water. Return the chicken to the pan and bring to a slow simmer. Add the bay leaves and cook until the chicken is tender and the sauce has reduced, about 20 minutes. Finish with the fresh parsley.
Serve with jasmine rice and lime wedges.
Watch the recipe video here: