Snickersdoodles
How do you improve upon a snickerdoodle cookie? Stuff it with a gooey Snickers bar.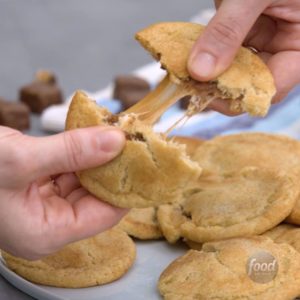 Ingredients
2 cups plus 2 tablespoons all-purpose flour (see Cook's Note)
1 teaspoon baking soda
1 teaspoon cream of tartar
¼ teaspoon fine salt
14 tablespoons unsalted butter, at room temperature
¼ cup packed light brown sugar
1 large egg
1¼ cups granulated sugar
One 11.5-ounce bag miniature chocolate-covered caramel-peanut candy bars, such as Snickers® Miniatures
4 teaspoons ground cinnamon
Instructions
Position oven racks in the upper and lower thirds of the oven and preheat to 400 degrees F. Line 2 baking sheets with parchment.
Whisk together the flour, baking soda, cream of tartar and salt in a medium bowl.
Add the butter, brown sugar, egg and 1 cup of the granulated sugar to the bowl of a stand mixer fitted with the paddle attachment. Beat on medium speed just to combine, about 30 seconds. Add the flour mixture in 2 parts and beat on low until just combined.
Portion the dough into heaping tablespoons and form each into a ball. Press a mini candy bar in the center of each to create a deep divot, then gather the dough at top to cover the candy completely. Refrigerate the balls on the prepared baking sheets for 30 minutes.
Whisk together the cinnamon and remaining ¼ cup granulated sugar in a small bowl. Roll each ball in the cinnamon sugar to coat well. Arrange 2 inches apart on the baking sheets.
Bake the cookies, rotating and switching the positions of the baking sheets halfway through, until the tops look golden brown and cracked and the centers still feel soft, 10 to 12 minutes. Let the cookies cool on the baking sheets for 3 minutes before transferring to a rack to cool completely.
Cook's Note
When measuring flour, we spoon it into a dry measuring cup and level off the excess. (Scooping directly from the bag compacts the flour, resulting in dry baked goods.)
Watch the recipe video here: