The Basically Fried Chicken Sandwich
Our incredibly simple method for breading chicken thighs (no brine! no seasoned flour! no dipping!) is based on karaage, a type of Japanese fried chicken. Using a high-sided vessel like a Dutch oven for frying—instead of a shallow skillet—helps to cut down on any obnoxious splatter.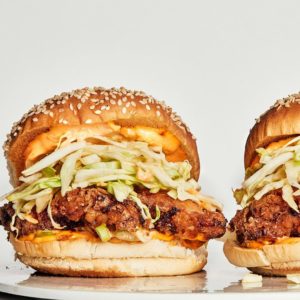 Ingredients
4 skinless, boneless chicken thighs (about 4 oz. each, 1 lb. total)
4 Tbsp. seasoned rice vinegar, divided
2 Tbsp. soy sauce, divided
Kosher salt
Freshly ground black pepper
Neutral oil, such as vegetable or peanut (for frying; 4–6 cups)
½ cup mayonnaise
2 Tbsp. Sriracha
4 soft seeded hamburger buns
¼ small head green cabbage
2 scallions
⅓ cup cornstarch
Instructions
Pat 4 chicken thighs dry with paper towels, then transfer to a large resealable plastic bag. Add 2 Tbsp. rice vinegar and 1 Tbsp. soy sauce to bag. Sprinkle in a pinch of salt; season with pepper. Seal bag, pressing out air, and work chicken around inside bag to coat. Let sit while you prepare the other components.
Pour oil into a Dutch oven to come 1"–1½" up the sides and heat over medium-high (the high sides make for less splatter during frying). Every few minutes check oil temperature with an instant-read thermometer. You want it right around 350° (this will take about 10 minutes total). As it surpasses the 300° mark, reduce heat to low to maintain.
Stir ½ cup mayonnaise and 2 Tbsp. Sriracha in a small bowl with a spoon until smooth.
Preheat boiler. If broiler element is at the top of your oven, move rack to highest position. Broil 4 buns (you can place them directly on the rack), cut sides up, just until surfaces are golden, less than a minute. Use tongs to remove and set aside.
Very thinly slice ¼ head of cabbage and transfer to a medium bowl. Thinly slice 2 scallions; set aside for assembly.
Remove chicken from bag with tongs, letting excess marinade drip back into bag, and transfer to another medium bowl. Add ⅓ cup cornstarch to bowl and toss with tongs until chicken is completely coated in cornstarch.
Check oil and adjust temperature so thermometer registers around 350°. Carefully lay chicken into hot oil and cook, turning occasionally to prevent one side from browning too quickly, until crust is crispy and dark brown, 5–8 minutes. Keep an eye on your oil temperature, which will drop when you add the chicken; increase heat if needed to maintain 350°. Transfer chicken to a wire rack and let cool about 5 minutes.
Meanwhile, toss cabbage with remaining 2 Tbsp. rice vinegar and 1 Tbsp. soy sauce.
Spread about 1 Tbsp. Sriracha-mayonnaise across toasted sides of buns with the back of a spoon. Sprinkle reserved scallions over bottoms of buns, then arrange chicken over. Divide slaw evenly over chicken, then close with tops of buns.
Watch the recipe video here: