Sesame Salmon With Orange Slaw
Sesame Salmon With Orange Slaw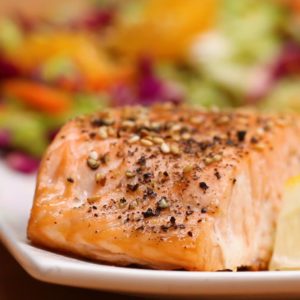 Ingredients
1 orange
½ napa cabbage, thinly sliced
¼ red cabbage, thinly sliced
3 carrots, peeled and coarsely grated
3 green onions, white and green parts thinly sliced
3 tablespoons oil
2 tablespoons rice vinegar
salt, to taste
black pepper, to taste
4 salmon fillets
2 tablespoons sesame seed, divided, plus more for garnish
1 lemon, sliced, optional
Instructions
Preheat oven to 425°F (220°C).
Using a sharp knife, cut off the top and bottom of the orange, then cut away the peel from the sides.
Slice alongside the membrane of the orange to remove each segment until the orange is fully supremed.
In a large bowl, mix the orange supremes, napa cabbage, red cabbage, carrots, green onions, oil, rice vinegar, 1 tablespoon of the sesame seeds, and season with salt and pepper. Set aside.
Season the salmon fillets on both sides with salt, pepper, and the remaining 1 tablespoon of sesame seeds.
Transfer the fillets to a greased rimmed baking sheet.
Bake for 8-12 minutes, until the salmon has just started to form a golden crust.
Plate the salmon and slaw on a plate with a few lemon wedges, if desired. Sprinkle over a pinch of sesame seeds and serve.
Enjoy!
Watch the recipe video here:
Zest up your dinner plans with this sesame salmon and orange slaw! FULL RECIPE: https://tasty.co/recipe/sesame-salmon-with-orange-slaw

Posted by Tasty on Saturday, January 19, 2019