Monte Cristo Grilled Cheese
I can't think of a better grilled cheese (or even a better sandwich, for that matter) than a homemade Monte Cristo Grilled Cheese. This only takes a little more effort than a plain-old turkey sandwich, so give this a try for lunch or even an easy dinner! It takes less than 20 minutes to make, start to finish! And I'm here to tell you…this is DELICIOUS. Of course, you can double the ingredients here, and throw two sandwiches in a larger skillet! There's no reason someone else should have to miss out on this treat! You could always make some delicious Broccoli Cheese Soup to serve alongside the sandwich as well.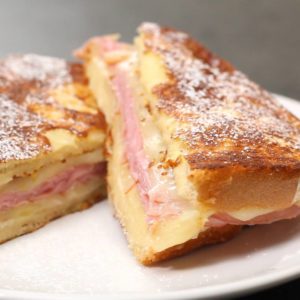 Ingredients
2 slices of artesano bread
1 tsp mayonnaise
1 tsp grainy mustard
2 – 3 oz of smoked deli ham, sliced
4 slices Swiss cheese
1 large egg
1 TBS half and half
½ TBS butter
powdered sugar, for sprinkling (if desired)
Instructions
In a small bowl, beat the egg and the half and half until well combined. Set aside.
Spread mayonnaise on one side of one slice of bread. Spread mustard on one side of the other slice of bread. Lay down, spread sides up.
Top each slice of bread with spread with the Swiss cheese.
Top one slice of bread with the Swiss cheese with the ham. Assemble the sandwich.
Heat a small skillet over medium heat. Add the butter and swirl it around.
Once it's all melted and starting to bubble, dip the sandwich quickly in the egg, making sure to coat the entire thing.
Add sandwich to skillet and cook until golden brown on one side. Flip and cook the other side.
Serve warm with powdered sugar, if desired.
Enjoy!
Watch the recipe video here: