XL Bacon Double Cheeseburger Crunchwrap
Here at Twisted we find a particular satisfaction in a well executed crunchwrap - that artful arranging of the pantries most humble of ingredients, the tortilla. We've stuffed them with fajitas, breakfast bits and philly cheesesteak. And now this - two enormous, perfect burger patties, loads of filthy American cheese - the dream.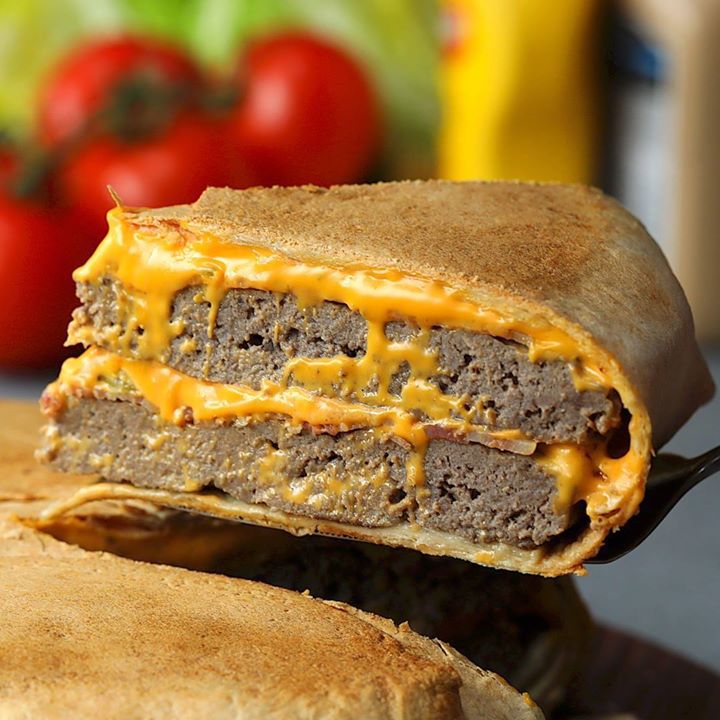 Ingredients
2.2 lb /1 kg beef mince
1 tbsp salt
½ tbsp white pepper
½ tbsp garlic powder
12 tortillas
14 slices American style cheese
Chopped gherkins
Cooked bacon
Instructions
Preheat the oven to 180°C/360°F.
Use your hands to mix together the beef mince, salt, white pepper and garlic powder.
Divide the mix in half and press each half into a spring form pan on a square of greaseproof paper to make a circle.
Carefully put each burger in a large hot oiled frying pan and fry on both sides for around 4 minutes - you can flip them with a plate to make it easier.
Arrange 6 of the tortillas in a flower shape in a well oiled skillet and top with a layer of cheese, pickles and bacon. Add burger number 1 and then repeat, finishing with burger number 2. Place a tortilla on top and fold over the edges of the other tortillas to make a sealed bundle. If they look like they'll pop up place a circle of baking paper on top and put something heavy on top of that.
Bake for around half an hour until the tortillas feel crunchy.
Serve with ketchup. Good times!
Watch the recipe video here: