Giant Lasagna Sandwich
Have you ever wanted lasagna in a box of bread? Perhaps want is the wrong word - this is something so intrinsically beautiful, so dribbling sublime you just need it. Take our word for it, this is something special. A whole lasagna in a parcel of bread, easy to eat with your hands, you could even take it out for a walk with you.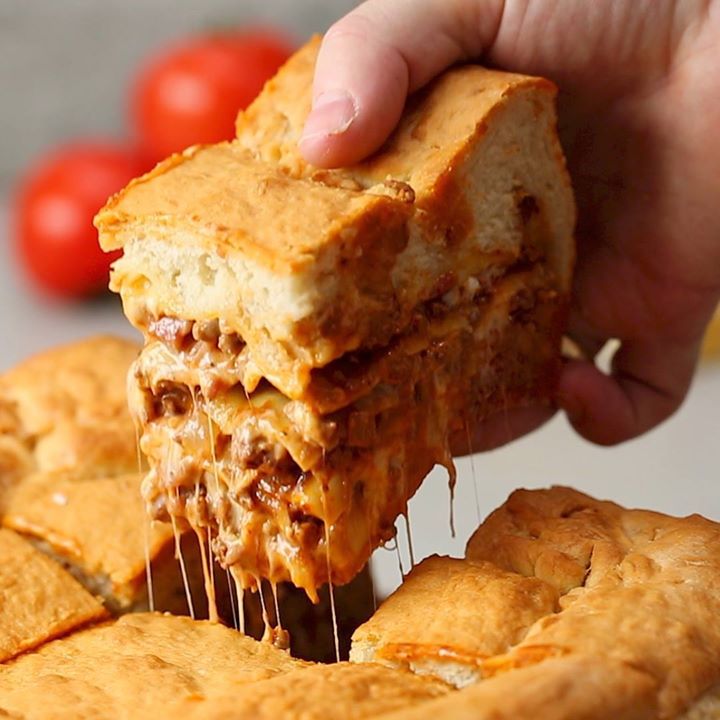 Ingredients
1 tbsp olive oil
1 cup / 2oog pancetta
3 cloves garlic, finely diced
1 onion, finely diced
2.2 lb / 1 kg beef mince
1 cup / 250g passata
1 tbsp tomato puree
1 tsp salt
1 tsp pepper
1 cup /150ml beef stock
½ cup / 150ml red wine wine
1.5k bread dough
8 lasagna sheets
16 sheets mozzarella
Parmesan
Instructions
Preheat the oven to 180°C/360°F.
Fry the pancetta in the olive oil until nicely browned then add the garlic and fry for a minute.
Add the onion and cook for another 3 minutes until nice and soft, then add the beef mince and cook until it's brown all over, breaking it up in the pan with a wooden spoon.
Pour in the tomatoes, tomato puree, stock and red wine and give everything a stir, then leave to bubble away for around an hour, until really thick. Top up with a splash of water if it looks like it's going to burn. Leave to cool a little.
Roll out the dough to about 1 cm thick, cut around ¼ off and drape it over an oiled 23cm square high sided tin.
Build up the lasagna in this order - lasagna sheets, beef mince, bechamel, mozzarella, parmesan. Repeat to the top, finishing with pasta sheets, and add the rest of the dough to seal. Pinch the sides together and bake for 40 - 50 minutes until crispy on the outside and baked through.
Watch the recipe video here:
Giant Lasagna Sandwich

Posted by Twisted on Wednesday, February 14, 2018