Chocolate Cake with Malted Filling
Chocolate malt addicts rejoice with this chocolate cake made with malted filling and covered in malt balls.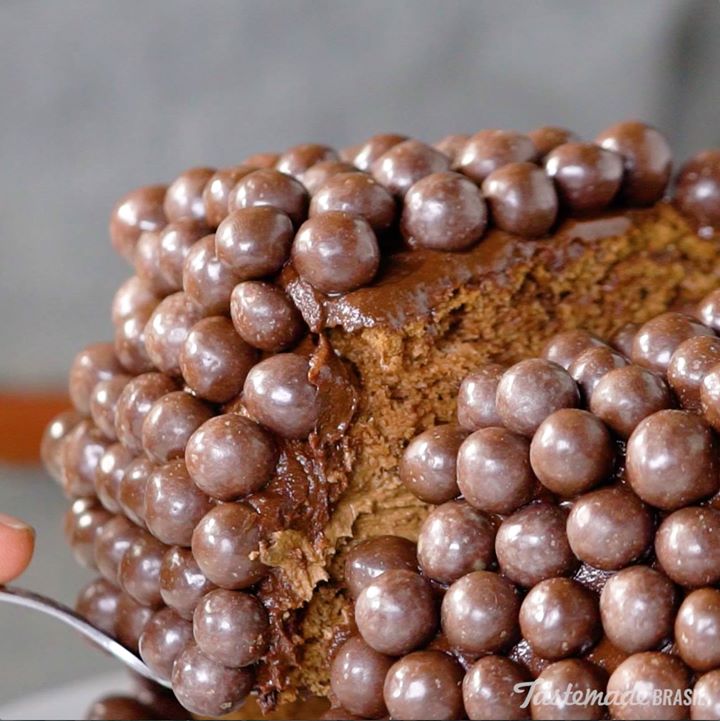 Ingredients
1¾ cups wheat flour
½ cup cocoa powder
Pinch of salt
3 tablespoons baking powder
7 egg yolks
1¾ cups sugar
½ cup cooking oil
¾ cup boiling water
7 egg whites, beaten
9 ounces dark chocolate, chopped
4½ ounces melted milk chocolate
1 cup heavy whipping cream, heated
1¾ cups powdered sugar
1 cup butter
1½ tablespoons milk
17 ounces malted milk balls
Instructions
Preheat oven to 350 degrees. Prepare 2 round cake pans with nonstick cooking spray and cocoa powder.
Sift the wheat flour and cocoa powder into a bowl. Add salt and baking powder and mix together. Set aside.
In a separate bowl, beat the egg yolks, sugar and cooking oil until combined. Add half of the boiling water and continue to mix until combined. Add the dry ingredients to the wet and stir to combine. Add the remainder of the boiling water and mix until well incorporated. Fold in the beaten egg whites.
Divide batter between the prepared pans. Bake for 20 minutes, then allow to cool completely.
In a medium bowl, add the powdered sugar and butter and beat with a mixer to combine. Beat in the milk, followed by the melted milk chocolate. Set aside.
In a separate bowl, add the chopped dark chocolate and pour the warm heavy cream on top. Mix until a ganache is formed. Set aside to cool.
Place one cake layer on a cake stand or serving tray. Add a layer of milk chocolate frosting and top with second cake layer. Cover the cake with the chocolate ganache
Stuff the layers of the cake with the chocolate buttercream, cover the cake with chocolate ganache and malted milk balls.
Watch the recipe video here:
Chocolate Cake with Malted Filling

Guess how many malt balls cover this Chocolate Cake with Malted Filling? Winner takes the cake! via Tastemade BrasilSave this recipe: https://taste.md/2xqKTF8More recipes on our app ? http://taste.md/2wkue93

Posted by Tastemade on Wednesday, August 23, 2017