Chorizo Manchego Carbonara
This take on traditional carbonara uses sliced chorizo, vodka, and Manchego cheese not just as an ingredient, but as a serving vessel too.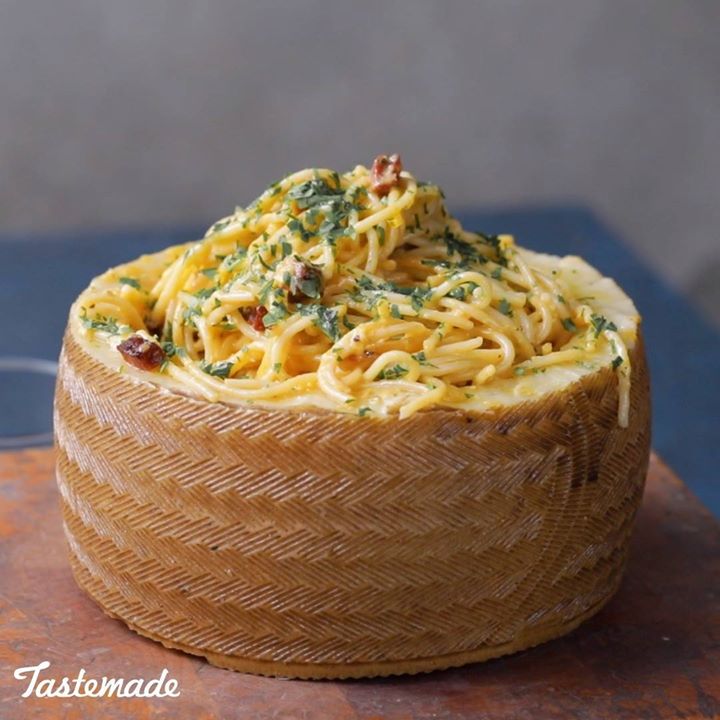 Ingredients
1 manchego cheese wheel
2 large eggs
1 large egg yolk
3 tablespoons olive oil
½ cup diced chorizo
2 cloves garlic, sliced
½ teaspoon red pepper flakes
6 ounces spaghetti, cooked
Salt and pepper, to taste
2 tablespoons parsley, minced
Splash of vodka
Instructions
Using a cheese plane or a melon baller, shave enough space from the cheese wheel to resemble a bowl. Reserve the shaved cheese (about ¾ cup). In a small bowl, whisk eggs, yolk, and shaved manchego into a paste.
In a frying pan, heat oil, and cook the chorizo until crispy. Add garlic and cook for 30 seconds, until fragrant and lightly golden. Add red pepper flakes and the cooked pasta. Coat the pasta with oil. Remove the pan from the heat, and add salt and pepper to taste. Pour over the manchego-egg mixture, add parsley and quickly toss everything together.
Pour a little vodka into the hollowed out cheese bowl and light on fire. Toss chorizo carbonara inside of the cheese bowl and serve immediately.
Watch the recipe video here:
Pasta is best served IN a wheel of cheese. Full Recipe: bit.ly/2CrhNY2

Posted by Tastemade on Tuesday, February 20, 2018