Antipasto Squares
It just doesn't get better than this.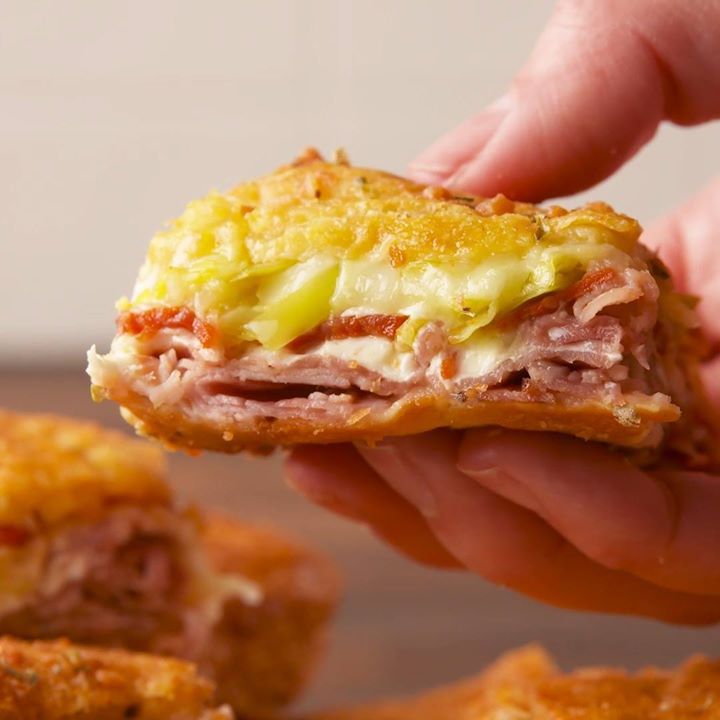 Ingredients
Cooking spray, for baking sheet
2 cans crescent dough
½ lb. deli ham
¼ lb. pepperoni
¼ lb. sliced provolone
¼ lb. sliced mozzarella
1 c. sliced pepperoncini
2 tbsp. olive oil
¼ c. grated Parmesan
1 tsp. dried oregano
Instructions
Preheat oven to 350° and grease a baking sheet with cooking spray. Unroll one can of crescents onto greased baking sheet and pinch seems together. Layer ham, pepperoni, provolone, mozzarella, and pepperoncini.
Unroll second crescent dough and place on top of pepperoncini. Pinch together crescent sheets to seal.
Brush olive oil all over top of crescent dough then sprinkle Parmesan and oregano on top.
Bake until crescent dough is golden and cooked through, about 30 minutes. (If the crescent dough is browning too quickly, cover with foil.)
Let cool for at least 15 minutes before slicing into squares.
Watch the recipe video here:
You won't be able to eat just one of these Antipasto Squares.Full recipe: http://dlsh.it/9ajZDKQ

Posted by Delish on Sunday, January 14, 2018