Chicken & Waffle Cupcakes
Yup! You read that right. Chicken and waffle cupcakes. They actually exist. This crowd favorite has crossed from a main dish to dessert and who knows where it will go next. This will quickly become your new go-to party dish and it will not disappoint. Normally this is quite a filling main meal but now having switched to a small cupcake size you might have some better portion control. Nope. Wait. That was a lie. You will continue to have a tough time portion controlling yourself with this delicious and addictive dessert. I'm sorry. Someone had to be honest with you.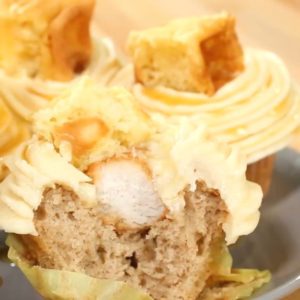 Ingredients
Maple Cinnamon Cupcakes
1¼ Cup All-Purpose Flour
½ tsp Cinnamon
¼ tsp Salt
¼ tsp Baking Soda
¾ tsp Baking Powder
1 Egg
½ Cup Sugar
½ Cup Cinnamon Applesauce
1 tsp Vanilla Extract
3 Tbsp Pure Maple Syrup
¼ Cup Vegetable Oil
¼ Cup Buttermilk
Maple Icing
1 Stick Butter, room temperature
1¾ Cup Powdered Sugar
1 tsp Vanilla Extract
3 Tbsp Maple Syrup, keep extra handy for drizzling
⅛ tsp Salt
Toppings
12 Chick-Fil-A Nuggets
12 Pieces of Waffle
Instructions
Maple Cinnamon Cupcakes
Preheat oven to 350°F / 180°C.
Line a muffin tin with cupcake liners.
In a medium size bowl combine dry ingredients, flour, cinnamon, salt, baking soda and baking powder.
Set aside.
In a large bowl beat egg, sugar, applesauce, vanilla extract, maple syrup and vegetable oil together.
Alternate mixing dry ingredients and buttermilk to large bowl until fully combined.
Fill cupcake liners ¾ full.
Bake for 16-18 minutes.
Take out of oven once done and cool on cooling rack for 15 minutes.
Cut a hole with a knife in the top center of each cupcake.
Stuff one small chicken nugget in the top of each hole.
Frost each cupcake with buttercream icing but don't completely cover the chicken nugget.
Top with a piece of waffle.
Drizzle maple syrup on top for a final touch.
Maple Icing
Beat the butter in a deep bowl with mixing beaters.
Add the vanilla extract, salt and pure maple syrup and mix until combined well.
Add in sugar slowly and mix thoroughly after each addition until all sugar is used.
Taste and decide if you want to add more maple syrup or sugar.
Watch the recipe video here: