Creamy Peppercorn Steak Fries

Posted by Twisted on Thursday, October 5, 2017
Watch the recipe video here:
Creamy Peppercorn Steak Fries
Creamy Peppercorn Steak Fries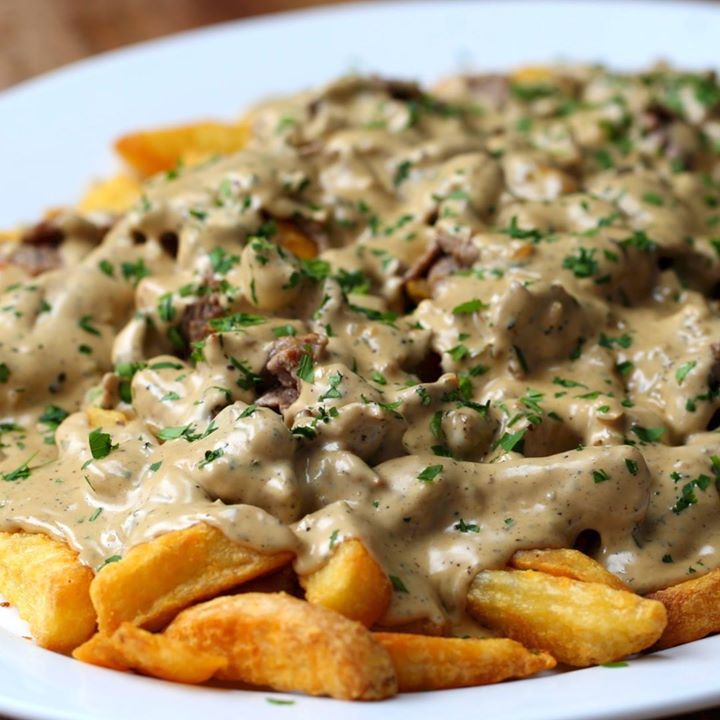 Ingredients
2 sirloin steaks, sliced as thin as possible
1 cup cream
1 glass white wine
1 cup beef stock
2 cloves garlic, crushed
1 small onion, finely chopped
2 tsp oil
2 tbsp parsley, finely chopped
lots of chips
salt and pepper, to taste
2 tbsp plain flour
3 tbsp butter
1 tbsp black pepper, freshly ground
1 cup parmesan, grated
Instructions
Fry your steak one steak at a time on a hot cast iron pan greased with your 2 tsp oil. Try not to move too much to minimise boiling and maximise colour (and therefore flavour). Put the steak on top of your fries.
To the steak pan, add your butter, then go in with your onion. Fry until translucent, then add your garlic. Fry briefly, then add your flour. Cook out then add your stock and wine. Bring to a simmer then add cream. Simmer until thick.
Add parsley, pepper, parmesan and stir to combine. When reduced, remove and pour all over fries.
Sprinkle with parsley and…..enjoy!!!