Layered Christmas Lasagna Is for Dessert, Your Kids Are Going to Freak Out!
After doing a countless amount of dessert lasagnas I knew I had to make one for christmas! Layered Christmas Lasagna is one delicious layer after the other! Crunchy cookie base, a creamy peppermint cheesecake layer right on top, white chocolate pudding goes on next and last but not least, light and fluffy cool whip goes on last. Decorate with mini marshmallows and m&m's and you are done!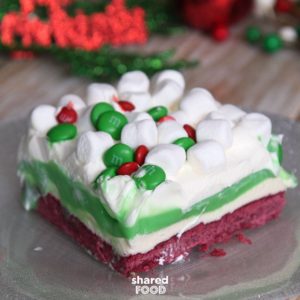 Ingredients
For the cookie layer:
¾ cup unsalted butter, softened
½ cup powdered sugar
1 ½ cups flour
1 tablespoon cocoa powder
¼ teaspoon salt
Red food coloring
For the cheesecake layer:
8 ounces cream cheese, softened
1 cup powdered sugar
1 ½ cups Cool Whip, thawed
1 teaspoon peppermint extract
For the pudding layer:
2 (3.9-ounce) boxes white chocolate instant pudding
3 cups cold milk
Green food coloring
For topping:
1 ½ cups Cool Whip, thawed
2 cups mini marshmallows
Festive sprinkles
Red and green M&Ms
Instructions
Preheat oven to 350 degrees. Prepare a 9x13-inch baking dish with butter.
Stir together the flour, salt, and cocoa powder in a small bowl. Set aside.
Using a hand mixer, beat together the butter and sugar in a large mixing bowl until fluffy. Add in a few drops of red food coloring, then mix well, adding more coloring as needed to get a bright red color. Turn your mixer to low, then gradually add in the flour mixture until well-combined.
Scoop the mixture into the prepared baking dish, pressing in well, then bake 18-20 minutes. Cool completely on a wire rack.
To make the cream cheese layer, using a hand mixer beat the cream cheese and powdered sugar until smooth in a large bowl. Add in the 1 ½ cups Cool Whip and peppermint extract, beating until well-combined. Spread evenly over the cooled cookie layer, then place in the freezer to set while you make the next layer.
To make the pudding layer, whisk together the instant pudding with the milk until smooth. Drop in some green food coloring, whisking until you reach the desired shade of green. Spread evenly over the chilled cream cheese layer, then place back in the freezer another 5 minutes to set.
To top the lasagna, spread 1 ½ cups Cool Whip evenly over the pudding layer, then top with mini marshmallows, sprinkles, and M&M's. Place in the refrigerator 3 hours up to overnight to set, then slice and serve!
Watch the recipe video here: