Cheesy Potato Waffles
What is something that you have never thought to put in a waffle iron? I feel like a lot of people these days are trying ANYTHING to see how it turns out. And I can't say that I blame them. These potato waffles are so delicious and creative. You can make them for brunch, a side for dinner, they go well with so many options! The waffle iron makes them the perfect amount of crispiness. And It only takes 3 minutes to cook them to perfection!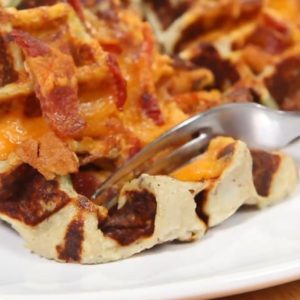 Ingredients
4 TBSP Unsalted butter
¼ CUP Buttermilk
2 Large eggs
2 CUPS Mashed potatoes
3 TBSP Chopped chives
½ CUP All-purpose flour
½ TSP Baking powder
¼ TSP Baking soda
½ TSP Salt
½ TSP Fresh ground black pepper
¼ TSP Garlic powder
CUP Grated cheddar cheese
Bacon bits
Instructions
Melt butter in a small saucepan over medium-low heat.
Continue to cook the butter until the butter begins to brown a bit.
Immediately transfer the browned butter into a medium bowl.
Whisk in buttermilk and eggs until thoroughly combined.
Add the mashed potatoes and 2 tablespoons chives and gently stir to combine.
In a small bowl, whisk together flour, baking powder, baking soda, salt, pepper, and garlic powder.
Add the dry ingredients to the wet ingredients.
Heat a waffle iron and grease if necessary.
Dollop batter (about ¼ cup per waffle) into the waffle iron. Cook until golden on each side.
Turn oven to the broiler setting.
Place waffles on a baking sheet and top with cheddar cheese and bacon.
Place waffles under the broiler until cheese is melted, about 30 seconds to 1 minute.
Watch the recipe video here: